Samsung sold 6.5 million Galaxy S IIIs in Q2, to sell 15 million in Q3 2012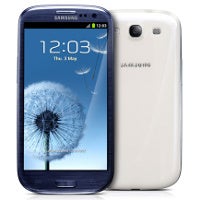 The
Samsung Galaxy S III
is not only the most powerful smartphone on the market - it's also launching on all major carriers in the United States and across the globe. It's been available internationally since May, but it will really get a huge sales boost this month when it hits the US.
And analysts from JP Morgan now say the Galaxy S III sold in 6.5 million units in the month or so of its availability in the second quarter of the year, and is expected to sell
another 15 million units in Q3 2012 alone
. Combined, this means over 21.5 million S IIIs sold in just a few months and that's iPhone-like popularity, if it comes true.
Moreover, in the three months from March to June, Samsung is estimated to have sold around 50 million smartphones, blowing the 30 million estimate for iPhone sales out of the water.
That's a huge success for the Korean company that is now the world's largest phone and smartphone maker. Samsung also made the Galaxy Nexus, which is just unbeatable value for the money at the $350 off contract price on Google Play. The Nexus is also the first and only phone so far to get the Android 4.1 Jelly Bean update.
source:
Les Echos
via
IntoMobile