Samsung releases an infographic to explain Galaxy Note's unique features
22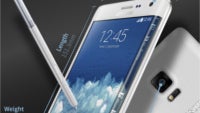 This year, Samsung delighted fans, tech-heads, and powerusers by announcing not one, but two Galaxy Note devices. The first was the expected
Note 4
– the successor to last year's highly regarded
Note 3
phablet, and the second was the
Galaxy Note Edge
– an innovative device that has its screen curved to the side, covering the right hand of the phone with a display, instead of a bezel (dubbed Edge screen).
Now, the company did spend some time at the IFA presentation to talk about the Edge screen's functionality, and there has been a fair amount of coverage from tech media around, but still, today, Samsung decided to keep the fire going by releasing an infographic that details most of the curved display's uses.
So, even though the Edge screen is seamlessly connected to the phone's main display, it seems it will act as a separate control input unit at all times. This would allow the user to place their most oft used apps and functions on it and have access to them no matter what they are viewing on the main screen.
The Edge screen will also function as a notification bar, allowing one to receive and read texts / emails / tweets / sports scores / answer or decline calls, without interrupting whatever they are doing on the device. The bezel-replacing display is completely personalizable, with one's own choice of background and even the ability to write something on it with the S Pen.
Lastly on the Edge screen, the infographic talks about a "Quick tools" option, which allows one access to a ruler, stop watch, timer, flashlight, and voice recorder – all these tools will be active on the Edge screen only, allowing one to multi-task, while using them.
According to the graphic, the device will be available in two colors - "Frost White" and "Charcoal Black". Unfortunately for the many powerusers out there who crave to get their hands on the futuristic phablet, Samsung has announced that the Note Edge is a "
limited edition concept device
" and it has been speculated that it will only ship 1 million units in 2014. It may not even reach the western markets by 2015 and its price tag is expected to be quite hefty.
If you want to see the Edge screen in action, you can check our in-depth video hands-on with the device
here
.
source:
Samsung Blog