Samsung presents VR Eduthon – a VR learning experience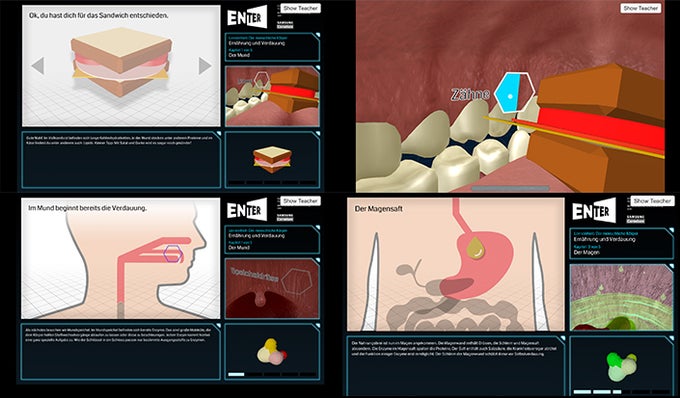 VR is undoubtedly a good way to show people something that they can't see otherwise. Samsung Electronics Germany and a German schoolbook publisher, Cornelsen, have taken this idea a bit further – to the classrooms.
The two companies unveiled their collaborative efforts on a VR educational system, called VR Eduthon. The project is meant for students between seventh and ninth grade and it currently covers their biology education. Its main goal is to improve the students' educational environment and Samsung made sure to involve teachers, electronic-teaching-method specialists and other experts, so it can get it right.
Samsung did a demo recently, where guests could try the experience for themselves. They had to pair up, as one person was given a tablet and the other – a Gear VR. The person with the headset could see the names of different organs around themselves, and when they looked at each one, they were presented with an animation and basic info of what that organ does, when we eat. In the meantime, more detailed information was displayed on the other person's tablet.
FEATURED VIDEO
We're not entirely sure we'd like to see someone's insides in VR, especially during eating. Anastasia, a tenth-grade student, appears to disagree, as she had this to say for the experience:
Studying biology through the Gear VR was a very cool and new experience. I've never tried anything like it before. It felt much easier and more fun to learn, and most of all, it was easy to understand and remember the content because I saw it with my own eyes. I want to use VR in my class to study as soon as possible.
Both Samsung and Cornelsen have stated that they are interested to continue working together for other educational VR projects.
source:
Samsung