Samsung patents design for a tablet with curved margins
19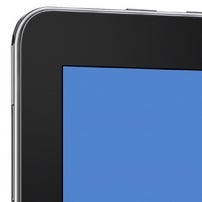 Samsung's tablets have always been a bit on the boring side when it comes to design. Admittedly, it's difficult to make a tablet that's unique-looking and easy to handle at the same time. But Samsung seems to be trying to do just that.
The South Korean company was granted a patent recently for the design of a tablet that has curved margins. Its display isn't curved, but that's actually a good thing.
Only the left and right margins of the tablet are curved - slightly curved to the front, to be exact, this probably allowing us to get a better grip on it. Rear and front-facing cameras are visible. The bezel around the display is quite thin, and the apparent lack of a hardware home button makes us think about a possible next-generation Nexus 10 tablet. Of course, we shouldn't get too excited for now, since this design might never be used for a real device. Plus,
HTC might be the maker of Google's next Nexus 10
, not Samsung.
Anyway, the patent application for the curved tablet - filed with the USPTO - doesn't tell us much, just that Samsung is claiming "the ornamental design for a tablet computer, as shown and described."
Check out the design in the slideshow below and let us know what you think.