Samsung tired of people tearing into the Note 9 cooling, shows us exactly where the carbon is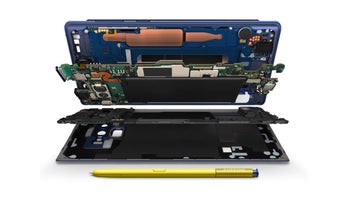 The Galaxy Note 9's cooling was a hot topic long before the phone was officially announced, but when it was called Water Carbon Cooling System during the release event, it really got people's attention. Naturally, as soon as the phone reached tech reviewers and consumers, people were eager to find out exactly how it works. Multiple
Note 9s gave their lives
in the name of science and the consensus among the examiners was that while there was water in some form in the cooling, carbon is nowhere to be found.
Well, Samsung had seen enough guessing work and decided to set things straight once and for all. In a post on its website, the cooling system of the Note 9 is explained with visual aids and simple language.
The "Tech Lab Notes" confirm the water part of the system: it turns to steam from the processor heat, travels through the porous filler of the copper pipe and turns back to water on the other end, once it has cooled down enough.
The Carbon comes into play as a Thermal Interface Material (TIM) that sits directly on top of the chip and helps conduct heat to the copper thermal spreader. According to Samsung, the carbon fiber TIM is nine times more conductive than silicone, which is why it's the preferred material for the job.
Considering the size of the processor and the thickness of the carbon layer (likely measured in microns), it's not hard to miss, especially if you don't know exactly where to look for it. But it is there, it helps with the cooling and we're glad the dispute is finally settled. There is carbon and there is water, there are no marketing tricks or gimmicks involved in the Water Carbon Cooling System of the Note 9. Case closed.