Samsung might have sold twice as many smartphones as Apple
84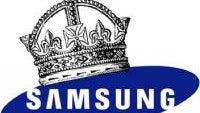 For the first time in a while Apple sold significantly less iPhones than analysts expected - 26 million on projections for 28 million or more, and this might have opened the door for Samsung. The Korean company is estimated to have sold around 52 million smartphones,
nearly twice as many as Apple
, and that's hugely impressive.
Just around a year ago, Samsung was playing catch up to Nokia, and now it's clearly the world's biggest smartphone maker, and it might be outselling Nokia by nearly 5 times, according to Juniper Research estimates. Former smartphone leaders Nokia shipped 10.2 million smartphones in Q2, and RIM delivered 7.2 million.
So far we only know for sure that Samsung shipped 10 million of its high-end Samsung Galaxy S III, and the Galaxy Note is continuing to sell well and is gearing up for launch on T-Mobile. But it's not just about the cutting edge devices - Samsung covers everything from the ultra low end in smartphones with devices like the Samsung Galaxy Pocket and Y, to the heights with the Note and S III.
"Galaxy products hitting all price points leveraged its global brand strength and the popularity of the Android OS to drive sales of smartphones in all price tiers,"
Juniper summed up.
Interestingly, the research firm suggests Sony should be one company doing better in these times as it has the global recognition and design. What do you think, could Samsung really sell twice as many smartphones as Apple?
via
SlashGear