Samsung launching its own mobile ad platform called AdHub Market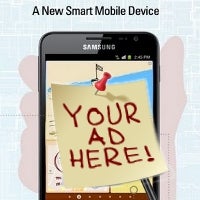 With the vast majority of Android phones being Samsung-made now, and Android poised to take over the mobile computing world, it is only logical that Sammy considers itself now a VIP player in the industry.
VIPs are entitled to certain perks, and Samsung just announced today that it is launching its own mobile ads solution called Samsung AdHub Market. The initiative is in partnership with the OpenX Technologies, and will allows companies to big for advertising space withing applications on Samsung's phones and tablets.
The AdHub Market will be in direct competition with Google's own mobile ad service, and also with Apple's solution, but Samsung has spent a year looking into companies that can make it work, so it should be in good hands with OneX Technologies, which has $100 million in annual revenue already.
"
This is the first time any device manufacturer has entered the ad tech space in this way. It is becoming very clear to the principals in the mobile space that advertising is going to be a very important part of the revenue mix
", says the OpenX Chief Executive Tim Cadogan.
Mobile advertising is estimated to become an almost $11 billion business in the next few years, and Samsung is entering a fight with the big Silicon Valley boys for a piece of this pie.