Samsung i830 Pocket PC GSM/CDMA phone with Bluetooth to be available from Verizon Wireless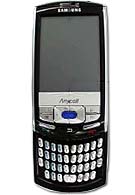 Back in 2003, the first device to offer both CDMA and GSM network support was introduced. The Samsung A790 is currently discontinued from Verizon but still offered from Sprint. I guess it was successful, because not long ago we got information about its successor. The new Samsung i830 will be based on the i730 Microsoft Mobile Pocket PC Phone Edition 2003 and will feature a slide-out full QWERTY keypad plus Bluetooth. The CDMA only i730 also supports Wi-Fi, which will not be supported by the CDMA/GSM i830. Today we have some more information about it. First of all, it is quite sure it will be launched by Verizon Wireless. The manual is definitely specifically written for Verizon and mentions the carrier many times. The i830 will work only as a CDMA device in the US, but for roaming in Europe/Asia it will support also GSM 900/1800 networks.
| | |
| --- | --- |
| | Samsung i830 key location |
The keypad as mentioned before is hidden inside the phone's body and can be slid out. Without it, the phone's face features 5-way navigation key, SEND and END keys. The volume and voice-memo keys are positioned on the right hand-side, with the SD card slot being on the left side. The current version of the phone lacks camera, but it is not impossible to see mega pixel version down the road. The SIM card is located in the back – behind the main battery. Like all recent Pocket PC devices, the i830 also features second backup battery which holds you information safe for 4 hours in case your main one dies.
The i830 will run the same operating system as its CDMA only counterpart – namely Microsoft Pocket PC 2003 Phone Edition. The user manual never mentions anything about EV-DO but I do not believe that Samsung will strip it down, so I'll assume that the SCH-i830 will be EV-DO capable. The device will also feature Voice Signal's speech recognition technology, which will allow the user to voice dial or search numbers without training the phone first; or say specific word to execute applications.
Samsung i830 is the first phone that we know of that will feature WOW XT Audio processing technology from SRS Labs. Its purpose in life is to enhance the quality of mono and stereo audio, creating improved dynamics and bass performance in the i830 internal speaker or the optional headphones. Supported features will be SRS 3D; SRC Focus and SRS TruBass.
Continuing with the messaging options, the i830 will support SMS and POP/IMAP e-mails. Unlike its predecessor, which could only send SMS when on CDMA network, the i830 will support this feature in both GSM or CDMA modes. For attachment and file viewing, Samsung i830 uses PicSel software.
Currently, we do not have any expected availability date or price.
Samsung i830 full specification

Source:
FCC