Samsung is giving you more cash toward the Galaxy Note 10 when you trade-in certain phones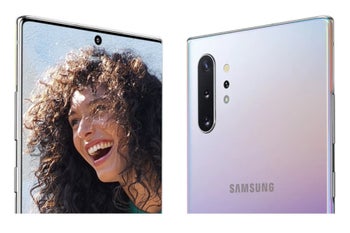 Trying to generate some sales momentum going into the holiday shopping season, Samsung has increased the amount of credit it is giving those who trade-in certain phones in order to get a discount on its latest flagship handsets.
Android Police notes
that if you have a
Galaxy S8
in working condition and trade it in, Samsung will now credit you $350 toward the purchase of the
Galaxy Note 10
or
Galaxy Note 10+
. Previously Samsung was willing to credit Galaxy S8 owners $110 if they traded in the phone toward the purchase of either model.
With the
Galaxy S8
trade-in, the price of the 256GB Galaxy Note 10 drops 37% to $599.99 from $949.99. That works out to 24 monthly payments of $25, down from $39.58. Trade-in a Galaxy S8 and the 256GB
Galaxy Note 10+
is reduced in price by 32% to $649.99 from $1,099.99. That works out to 24 monthly payments of $27.08, down from $45.83. The phone that is being traded in must turn on, and the screen and cameras must be free of any cracks. Before turning it over to Samsung, the device must have all data wiped.
| Name of Phone | Trade-in value | Change |
| --- | --- | --- |
| Samsung Galaxy S10+ | $600 | +$100 |
| Samsung Galaxy S10 | $450 | +$50 |
| Samsung S10e | $450 | +$100 |
| Samsung Galaxy Note 9 | $450 | +$150 |
| Samsung Galaxy S9+ | $350 | +$125 |
| Samsung Galaxy S9 | $350 | +$150 |
| Samsung Galaxy Note 8 | $350 | +$175 |
| Samsung Galaxy S8+ | $350 | +$190 |
| Samsung Galaxy S8 Active | $350 | +$200 |
| Samsung Galaxy S8 | $350 | +$240 |
| Apple iPhone XS Max | $600 | +$100 |
| Apple iPhone XS | $450 | +$50 |
| Apple iPhone XR | $450 | +$100 |
| Apple iPhone X | $450 | +$150 |
| Apple iPhone 8 Plus | $300 | +$75 |
| Apple iPhone 8 | $300 | +$100 |
| Apple iPhone 7 Plus | $200 | +$40 |
| Apple iPhone 7 | $200 | +$90 |
| Apple iPhone 6s Plus | $200 | +$110 |
| Apple iPhone 6s | $200 | +$125 |
| Google Pixel 3 | $450 | +$200 |
| Google Pixel 3 XL | $450 | +$175 |
| Google Pixel 2 | $200 | +$100 |
| Google Pixel 2 XL | $200 | +$75 |