Samsung granted new design patent for a buttonless smartphone. Could it be related to the Galaxy S5?
32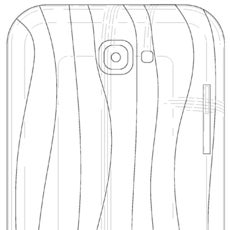 The USPTO today granted Samsung a design patent (No. US D697,886 S) that shows a large Galaxy-like smartphone which does not have hardware buttons on the front. First filed on July 20, 2012, this new design patent appeared not long
after another patent filed by Samsung
revealed a different (yet similar in some aspects) buttonless handset. The earlier patent may have hinted at the design of
Samsung's Galaxy S5
and/or Note 4, and the new one could also be related to the S5.
The sketches included in patent No. D697,886 S expose a mysterious rectangle on the upper right back side of the device. This could be a good spot to place a fingerprint scanner - since we're hearing that this feature will most likely be included in Samsung's next-gen flagship Android smartphone. The rear of the device also shows a camera with flash, and what may be a speaker at the bottom. There is also an interesting sensor (we assume it's a sensor, but who knows?) that's visible at the top of the handset's front, sitting next to what should be the power button, and above the front-facing camera (update: actually, that
sensor
might be just a 3.5mm headset jack). All in all, the device does have an unmistakable Samsung Galaxy feeling.
Current rumors have it that
the Samsung Galaxy S5 will be announced
before MWC 2014 next month, or in March, with a launch scheduled for April. Specs-wise, we should expect a Quad HD (1440 x 2560) display, new Exynos processor (likely 64-bit capable), a 16MP or 20MP rear camera, and lots of RAM (probably at least 3GB). Would you like it if the S5 looked like in the sketches seen below? This is not innovative, that's for sure, but it would probably allow the S5 to look better than the current S4 flagship. Let us know what you think in the comments section!
source:
USPTO
via
Sammy Today