Samsung foldable tablet gets hinted at in yet another patent
6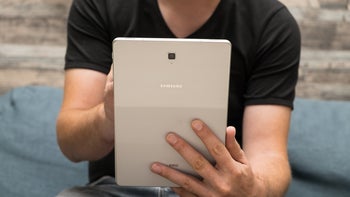 After years of speculation, last week Samsung provided the first-ever glimpse at its
upcoming foldable smartphone
. But if a new
patent
is anything to go by, the world's largest smartphone brand may also be developing a foldable tablet.

Although it's unclear if this will ever make it to production, the device envisioned sports a huge display and a design that utilizes two hinges instead of just one, thus dividing the front panel into three sections. When unfolded completely, the tablet in question resembles any other regular device. If users wish to use a slightly smaller display, though, the can fold the left side of the display behind the rest. This deactivates that portion of the panel and leaves the other two sections active.

In an alternative move to these two options, if users are looking for a smartphone-sized package in any given moment, the right side of the display (which also contains the rear camera) can be folded over. All users then need to do is flip the device over and use the area of the display that is visible.
Samsung
itself is pretty confident in the foldable form factor and expects to sell at least one million units of its first foldable smartphone. If the company can indeed achieve this figure, a foldable tablet will be significantly more likely. When it comes to the near-term, though, consumers should expect the company's focus to be solely on smartphones.