Samsung's Galaxy F could eventually be joined by a foldable tablet
7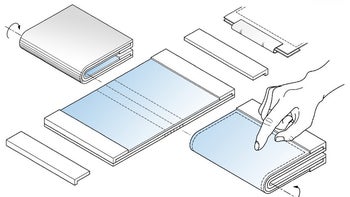 The fact Samsung is developing a foldable smartphone is certainly no secret – the company has already begun
teasing the Galaxy F
– but if a new patent is anything to go by, it seems the South Korean giant is also looking into foldable tablets.

The patent in question was filed back in April of 2018 in the US but wasn't published until recently. It envisions a device that, when unfolded, can be used just like a traditional tablet. However, if a user wishes to use just one half of the tablet's display, it can be folded in one direction, something that will turn off half of the panel and automatically switch the UI to a smartphone-like experience on the portion that is still active. Alternatively, folding it in the other direction will close it, thus protecting the display and allowing it to be placed easily into a user's pocket
Due to the constraints that come with the foldable design, Samsung's concept makes use of two bezel-like grips on either side of the
display
which house the panel's necessary components. From the looks of things, these will be made out of aluminum, just like the rest of the body – the center of the rear panel will also include a hinge-like mechanism.
Considering foldable devices are still untested ideas,
Samsung
is expected to test the market's reaction at first with the Galaxy F. But if the smartphone proves popular, the company could easily green light a foldable tablet launch too. In the meantime, Lenovo appears to be the front-runner when it comes to foldable tablets. After all, it recently confirmed that it will be releasing
a 13-inch device
that uses an LG display.