Samsung continues teasing Galaxy S 4: 'it's unreal, totally amazing'
65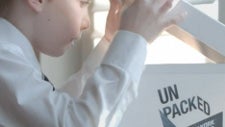 Samsung has just released its second teaser video for the Galaxy S 4 and if you wanted specifics that's what you get:
"It's my favorite color, it's unreal, totally amazing."
In other words - none.
The vague teaser shows Jeremy, the kiddo anointed to be the Galaxy S 4 messenger take the box with the device back home. To his bad luck, neighbor girl Jane starts asking all the wrong questions and even mom comes at the wrong moment so Jeremy has to hide it.
And when he finally opens the box, it starts glowing. That's when we get to hear the device is Jeremy's favorite color (we hope it's not black or white!). So yeah, is that a hint for the Galaxy S 4 having more color options? Could be.
You should not be surprised by the lack of details, though. After all, there must be some mystery to it when it gets officially unveiled on March 14th.
Not that there is much left after all those leaks. We'll cover the event live in any case, though, so stay tuned.
source:
Samsung Mobile