Samsung combines its smartphone and camera divisions
15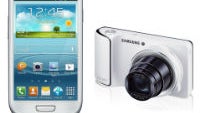 We've gotten to the point with smartphones where spec-nerds can go on and on about the CPU or display, but the fact of the matter is that any flagship device will be on similar footing, regardless of how the numbers shake out. The only two real points of differentiation these days are in the battery life (which is a constant struggle) and in camera quality. A new move by Samsung makes it look like it is doubling down on its smartphone cameras.
A report from
ET News
says that Samsung is planning to merge its Digital Imaging (aka camera) division and Mobile Communications (aka smartphone) division. Samsung says that the move is aimed at "[integrating] the technical know-how of the two business divisions into competency for differentiating our smartphones." Frankly, there were a lot of business buzzwords in Samsung's comments about the move, but the basic reasoning seems to be that Samsung believes that focusing on camera quality is a good way to stay on top in the mobile world.
It is unclear when we'll be seeing the benefits of this merger, but this move seemed inevitable given Samsung's tests with the Samsung Galaxy S4 Zoom, Galaxy Camera, and Galaxy NX. We're just hoping that the merger leads to fewer awkward or expensive hybrids, and more reasonably designed hardware options.