Samsung building NAND factory in China to feed growing smartphone market
9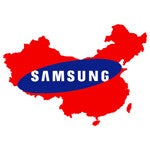 Samsung announced it plans to build its first NAND chip plant in China
next year, pending regulatory approval. Samsung already makes 40% of the world's supply of NAND memory, the solid-state memory found inside smartphones and other devices. The plant will cost between $3.5 and $5 billion dollars and is expected to come online in 2013.
Samsung officials cited the rapidly increasing smartphone market in China
as a driving reason to create more production capability there. China has experience rapid growth in the mobile market, recently surpassing the United States to become the
largest market
for smartphones and mobile devices.
It's thought that Samsung is positioning itself to be able to produce more of its own phones for Chinese consumers, while also expanding the number of chips it can offer to Chinese phone makers such as ZTE and Huawei. ZTE
recently announced
its desire to shift its emphasis to higher-margin premium smartphones.
Samsung is also building a $3 billion dollar flat panel display factory in China, so they are well positioned to remain a top supplier of electronics to Chinese consumers and OEMs alike in the coming years.
source:
Financial Times
via
electronista