Samsung battery test video shows the Galaxy S7 crush the competition, but we are not convinced
61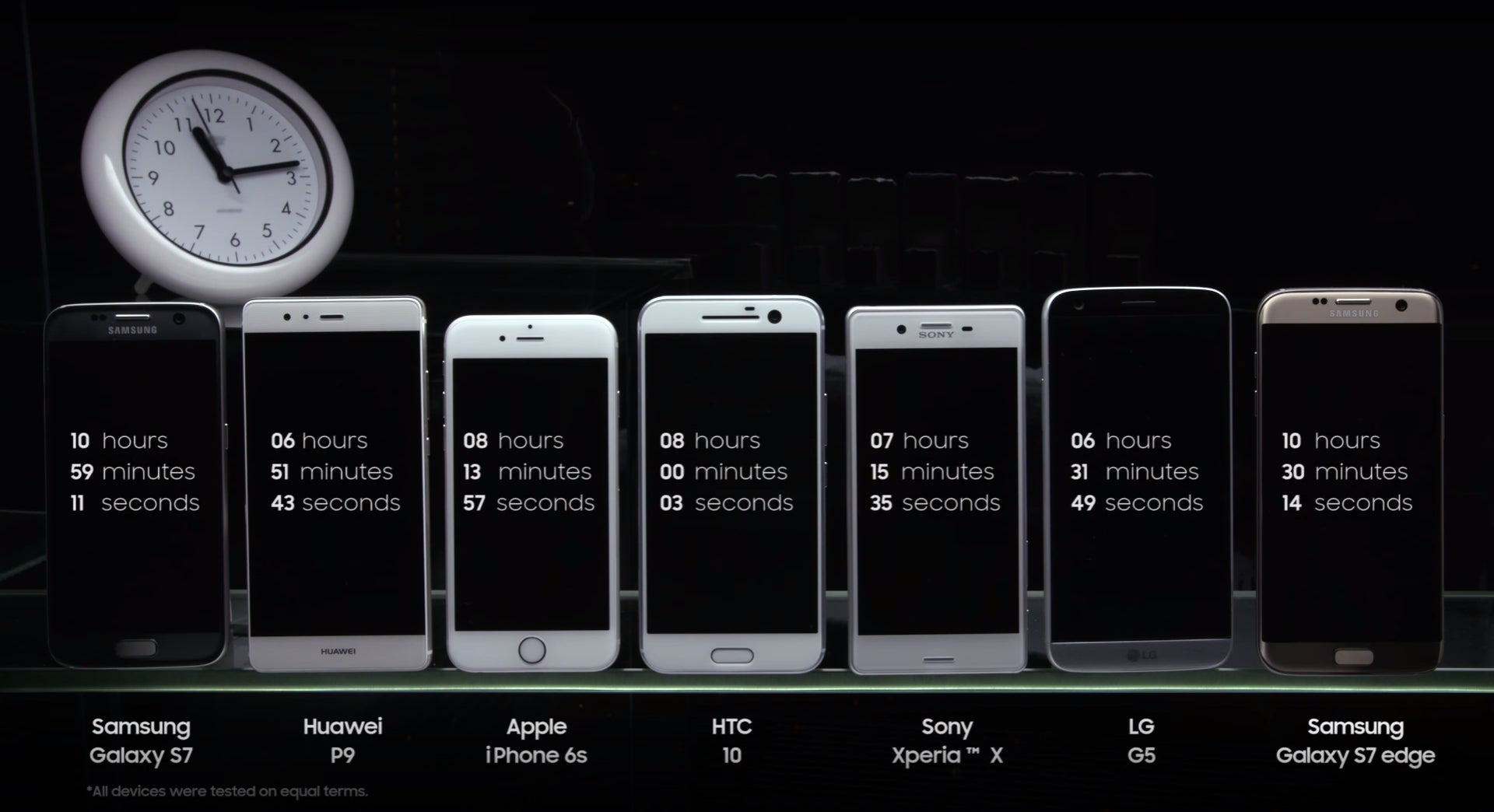 Samsung Germany rounded up some of the best 2016 smartphones so far for a bespoke battery test that saw the
Samsung Galaxy S7
beat the rest, finishing at 10 hours, 59 minutes, and 11 seconds of on-screen use. The-lowest ranking smartphone of the bunch is the
LG G5
, racking up 6 hours, 31 minutes, and 49 seconds of on-screen time. So far, so good, but we are not convinced in these results, because several important things about the test feel way off.
Comparing these results to our battery tests, we have 6 hours and 37 minutes on the Galaxy S7, and 5 hours and 51 minutes on the LG G5. Such variances are common, of course, for all battery tests have different methodologies. Ours is designed to simulate intense real-life on-screen usage under a constant average brightness level, coming up with an estimate of on-screen time (under a reasonable brightness setting) for every phone.
Do note that in the last half hour of testing, the Galaxy S7 and S7 edge's screens become very dim – almost "impossible to see"-dim. This lowers their energy demand, therefore boosting longevity. If Samsung had stopped the clock there, or kept the screens brighter, the Galaxy S7 would have scored about 9 hours and 30 minutes (10 hours and 15 minutes for the Galaxy S7 edge), according to our calculations.
For the sake of relevancy, our test keeps the units' screens on a constant average brightness setting for the duration of testing, which we believe is a more realistic approach. After all, the logic of typical use supposes that smartphone screens are kept reasonably bright throughout the day, and most of the evening.
Another possible discrepancy we'd like to point out in this test is that the screen brightness measurements shown in the follow-up documentary video by Samsung are carried out in a lit setting. These measurements are supposed to be taken in the dark to minimize the possibility of ambient light interfering with the test results. This is especially true in Samsung's case, as the company is using a lux meter to measure the luminance, which captures a lot of ambient light.
By the way, our battery test is championed by the
BLU Studio Energy
, a smartphone that appearеd in North America last year. It achieved an outstanding
14 hours and 53 minutes
of constant simulated on-screen use, enabled by its large 5000mAh battery.
Samsung's battery test and the follow-up "documentary" videos are available below.
source: Samsung Deutschland (
YouTube
)