Samsung and phoneArena are inviting you to a party in San Francisco
21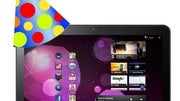 Hey! It is time to loosen up a little bit and have some fun, don't you think? If you agree with us, you might be pleased to know that on
June 3
(7:00 - 10:00 PM), Samsung and phoneArena will be hosting a meetup in San Francisco, and that you, dear reader, are also invited to join the party.
The star of the show will be the
Samsung Galaxy Tab 10.1
, which attendants will have the chance to get up close and personal with. This is your opportunity to try out Samsung's tablet ahead of its release, and if you are lucky enough, you may receive one as a gift as well. Yes, you heard that right! Because a party is nothing without giveaways, Samsung is giving away a number of its latest tablets and smartphones:
5x Samsung Galaxy Tab 10.1
2x Samsung Droid Charge
2x Samsung Nexus S 4G
1x Samsung Infuse 4G
But the list of gifts does not end with only these awesome gadgets - $25 Media Hub vouchers and Samsung branded screen cleaners will be given away to every single participant.
Attending the event is absolutely free, and all you have to do is to
register here
. We wouldn't think twice if we were you – this is the perfect opportunity to have some quality time in the company of smartphone enthusiasts. Also, bear in mind that the number of visitors is limited, so register now. The meetup will take place at
620 Jones
Bar & Restaurant at 620 Jones St. We hope to see you there!
Recommended Stories