Samsung and LG to discuss OLED dispute in March, may cross-license
4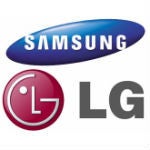 The battle between Samsung and LG over OLED technology patents has been winding down recently, and it looks like there may be an end in sight. A new report says that Samsung and LG are planning to discuss the
OLED dispute
as soon as next month, and there has already been chatter of cross-licensing deals on the table.
The dispute has been going on for a while in Korean courtrooms. It started in 2011, when Samsung suspected researchers of leaking information to LG. In 2012, LG served Samsung with a patent suit, and Samsung moved to have LG patents annulled. But, a bit over a week ago, both sides agreed to drop their respective suits and talk about a resolution. Now, it seems those talks will happen next month.
Even better, both LG Display chief executive Han Sang-beom and Samsung Display chief executive Kim Ki-nam have expressed willingness to resolve the dispute. Kim even went so far as to say that Samsung is "considering cross licensing patents". So, the end is in sight.