Apple and Samsung grabbed virtually all industry profits in Q1 2012
39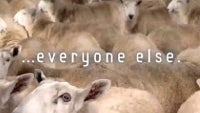 By now, you probably already know that nearly all of the mobile industry profits go into the pockets of Apple and Samsung. Apple has got the lion's share of them, and Samsung grabs a noticeable chunk of the pie. The rest? Not so much. And the financials from last quarter seem to only worsen that trend.
Apple announced staggering profits of $11.6 billion for Q1 2012, while Samsung broke its own records and reported $4.5 billion in profit, $3.9 billion of which come from mobile alone. This translates into Apple having an 80% share of the market, while Samsung holds 20%, leaving zero space for other phone makers.
The two companies combine for 74% of the industry's revenue, according to Raymond James analyst Tavis McCourt's estimates. In UBS analyst Maynard Um's predictions, Apple and Samsung would have had 90% of the profits, but it turns out that the number is even larger, and this should be troubling for competing companies.
"It is getting increasingly hard to understand where the rest of the device vendors will get the capital to fund necessary R&D and sales and marketing investments to continue to compete with Apple and Samsung," McCourt said.
"With essentially all of the other hardware vendors besides Apple and Samsung struggling to find profits to reinvest into R&D, Microsoft and Google have to be wondering who their hardware partners will ultimately be. Neither wants to be in a position where they have to take on more of the R&D burden, and neither want to have to initiate bidding wars to give Samsung an incentive to focus on its platform. Our assumption is that both Huaweii and ZTE will be courted heavily over the next few quarters by both Microsoft and Google as they look to strengthen their stable of sustainable hardware partners."
Those are some interesting forecasts for how the industry will develop. Do you agree that eventually the two Chinese phone makers will be the swing factor that decides how mobile platforms evolve?