Samsung "Veyron" flagship clamshell packs Snapdragon 820 CPU, 4GB RAM
14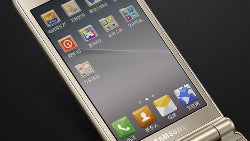 Bugatti Veyron is not just a car, it's the mother of all sports cars, so the first thing that comes to mind whenever we hear its name should be "speed."
But "Veyron" is also the codename under which Samsung is developing a brand new smartphone featuring a clamshell form factor. The internal name has been probably chosen to emphasize the power of the device, which could probably rival the Galaxy Note and Galaxy S series.
While this isn't the first time we hear about
Samsung "Veyron,"
it's the first time that we know some of the specs under its hood. Although the original rumor claimed the flip phone will sport a 3.9-inch display, according to a new benchmark, the "Veyron" is supposed to pack a slightly larger 4.2-inch screen.
On top of that, the clamshell will be powered by a quad-core Qualcomm Snapdragon 820 processor, complemented by 4GB of RAM. This is exactly the same hardware configuration as the US version of the Samsung Galaxy Note 7.
Listed as Samsung SM-W2017, the clamshell runs Android 6.0.1 Marshmallow, so don't hope for Nougat 7.0 to be installed on this one. It's unclear what camera the smartphone will pack, either a 16- or 12-megapixel camera.
Unfortunately, we know nothing about its release or price, but we can safely assume it will be launched in China, just like its predecessor. Because we don't have any image of the clamshell, we've added a gallery that shows the previous SM-W2016 model since the upcoming smartphone shouldn't be too different when it comes to design.
Recommended Stories