Samsung USA issues a second teaser video promoting the merits of the Samsung Galaxy S II
59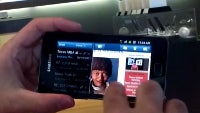 Despite that Irene made
Samsung reschedule its grand unveiling of the US carrier Samsung Galaxy S II versions
, it has been warming us up for a few days with videos showcasing the various groundbreaking features of its finest handset to date.
The first teaser vid was an opening remark, stressing the large Super AMOLED Plus display and the dual-core Exynos chipset, as well as the phone's record for Samsung sales and popularity across the world, promising that it will appear on US shores very soon.
Now the second teaser video takes a more pragmatic approach, and Samsung USA says it will be part of a series revealing the ins and outs of the phone for the future users. What is presented is the email client, which splits the screen in landscape mode like what you are usually used to on tablets. Have a look at the new video below while you wait for the August 30 unveiling event.