Samsung Switzerland: Galaxy S6 preorders four times higher than Galaxy S5
85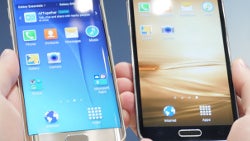 Before their unveiling, we heard that Samsung's internal forecast was for 50 million
S6
units sold this year, of which 10 million were set aside for the
S6 edge
sales, but the company will seemingly have to revise these upwards, if all goes well.
Yesterday an analyst pegged their sales forecast at 46 million just for the S6, and Samsung has allegedly ramped up the initial batch with a million, buoyed by the welcome reception of the two new flagships at MWC.
When it comes to Europe, it might have been wise to do so, as Samsung Switzerland reports not two or three, but four times higher preorders for the dynamic flagship duo, compared to the Galaxy S5 in the same period last year. Granted, they are apparently lumping two phones in those preoorder numbers, but this is still a very promising sign for the ultimate sales success of the Galaxy S6 and S6 edge undertakers.