Samsung Solstice II is bound for AT&T & priced at $29.99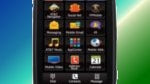 For anyone who managed to pick up a Samsung Solstice handset and find it quite enjoyable, you'll be happy to know that Samsung announced its successor today.
The Samsung Solstice II will be making its way into AT&T's lineup starting on November 7th with the easy on the pockets pricing of $29.99 with a 2-year contract. Following similarly to its predecessor, the Solstice II features a 3" touchscreen with a resolution of 240 x 400 pixels, 2-megapixel camera, GPS navigation via AT&T Navigator, microSD card slot which will accept cards up to 16GB in size, and Bluetooth 2.1.
In addition, it comes preloaded with Vlingo which is a subscription-based voice command app which will allow owners to place phone calls, send text messages, and search the web by simply using their voice.
Naturally, the pricing definitely looks good for this feature phone which will already be crowded by other devices from Samsung's camp on AT&T's lineup.
via
Mobileburn