Samsung Juke available for pre-order
2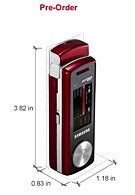 last week
the Samsung Juke U470 music phone is now available for PreOrder on the Verizon Wireless site. PreOrders will be shipped starting on Oct 19. Two Year pricing for the Juke is $99.99, and it is available in 3 distinctive colors:
Teal
,
Red
,
Blue
The Juke is the 1st of the
4 "Holiday Push"
phones that Verizon will be releasing over the next 5 weeks. It has 2GB of Internal Memory, and does not have a microSD card slot. Because of this, the phone does come equipped with a USB Cable to transfer music. It is capable of playing back MP3, WMA, WMA Pro, and unprotected ACC and ACC+ music files. Other features include a 262K Color 128x200
pixel
TFT Display, VGA Camera, Get-it Now, VZ Navigator, and Stereo Bluetooth. High-Speed EVDO is not supported.
More info can be found on Verizon's
"What's Next" web site