Samsung Infuse 4G Benchmark Tests
25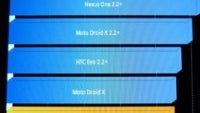 Sporting a
1.2GHz Hummingbird processo
r and all, which is a slight step up over its Samsung Galaxy S brethren, there is no arguing that the Samsung Infuse 4G will be at the center of attention for those AT&T customers itching to get a tasting of the impending smartphone. Conversely though, some might be hesitant about picking one up solely because it's still a single core chipset, as opposed to the
dual-core CPU powering the Samsung Galaxy S II model
.
Now that we have the device in our hands, it's only natural for us to quickly put it through some benchmark tests to gauge how it compares to the competition out there. Before getting into the nitty-gritty stuff, it's worth noting that these benchmark tests don't necessarily portray the true potential on the handset's performance. However, in the short time of just using the handset, we can safely say that it
operates at a reasonable rate
, without much slowdown or lag in its performance.
Running the
Quadrant benchmark
test first, we're rather appalled by the results to tell you the truth, but then again, it could be due to the fact that it's not optimized fully to test out the chipset of the Samsung Infuse 4G. In fact, it was able to only achieve scores around the
1,122
mark – with
1,153
being the highest that we're able to get so far. At that mark, it falls behind the pact of some of its well-known rivals – like the HTC EVO 4G, Motorola DROID X, and Google Nexus One. Additionally, we ran the
AnTutu Benchmark
, where it produced a total score of
2,263
. Again, the results are unflattering to say the least, but overlooking it all, we're still satisfied with the handset's normal operation.
Check out the results below!