Samsung Gear S3 limited edition leaked in a set of questionable photos
4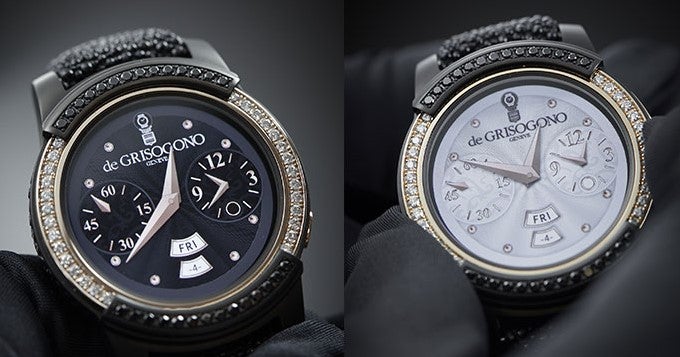 The Gear S2 limited edition by de GRISOGONO
A recent leak suggested that an upcoming Samsung S-series smartwatch,
most likely the Gear S3
, is codenamed "Solis" and will be running Tizen. Now, two new images, courtesy of Korean Twitter account Tizen Cafe, show off what's supposed to be a promo for the Gear S3 limited edition.
By the looks of it, these are photos of two screens showing promotional images for the upcoming watch. The depicted watches sport an all-metal design that's a bit too similar to Rolex's trademark looks – all the way down to the fluted watch face bezel and oyster bracelet – so the final product might not look like that at all. Furthermore, what we're looking at here is likely not the regular Gear S3, but rather its luxury limited edition.
Upon closer examination, a de GRISOGONO logo can be made out on the watch face in one of the shots. De GRISOGONO is the
Swiss watch manufacturer confirmed to be working on a limited version of the Gear S3
. Although the photo is overexposed and small, the emblem can be made out with a simple side-by-side comparison (check out the gallery below). The second photo shows off what looks like a watch face with moon phases and three small subdials.
Whether we're dealing with placeholder images or the real deal remains to be seen. However, it's a safe bet to say that this is not the regular version of the Gear S3.
source:
Tizen Cafe
via
SamMobile