Samsung Galaxy Tab on its way to T-Mobile EU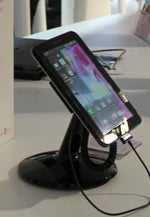 The
Samsung Galaxy Tab
which was officially unveiled last week at IFA may be making its way to multiple networks after it becomes available on launch partner Vodafone's network. This is good news as the Galaxy Tab appears to be the first true challenger that is ready to battle the
Apple iPad
for tablet supremacy.
While the Samsung Galaxy Tab's UK release may be exclusive to Vodafone, the period of exclusivity may be a very small one. According to WP Hong, the Executive Vice President of Mobile HQ, there has been several discussions with mobile carriers worldwide that will allow them to carry the Samsung Galaxy Tab. Many of these discussions have already been completed.
There is one other arrow pointing towards the direction of a short-lived Vodafone exclusivity. This is a pretty sharp arrow. The guys over at Pocket-lint spotted the Samsung Galaxy Tab on display at T-Mobile's table at the IFA event. If T-Mobile is to get the device shortly after Vodafone, the flood gates will open up for all of the others who plan on releasing a Samsung Galaxy Tab on their network.
Samsung announced pricing of the Galaxy Tab, but subsidized pricing on a mobile network will be up to the carriers themselves. Either way, this is big news for a device that is expected to make a push for the tablet crown. With the upcoming launch, it should be fun to see how fast the Samsung Galaxy Tab finds its way to other networks around the world.
Samsung Galaxy Tab Preview
source:
Pocket-lint