Samsung Galaxy Tab 4 Nook hands-on
9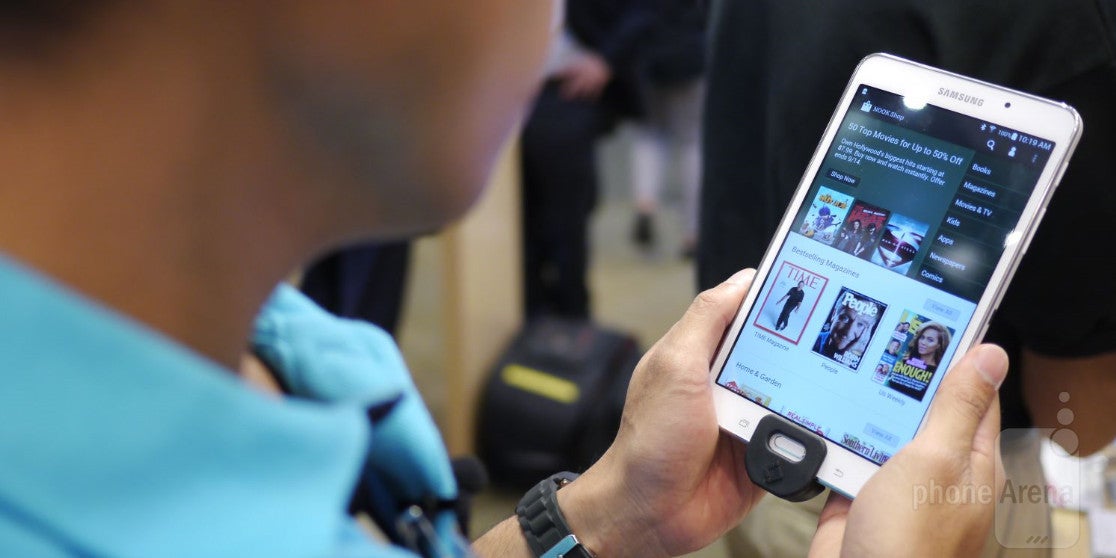 Last year, we were eagerly waiting for a refreshed NOOK tablet of some kind, since we assumed that it would follow the path of having a yearly upgrade. After Amazon announced its new line of Kindle Fire tablets over the busy holiday season, we really thought it would only be natural for Barnes & Noble to follow suit – much like they've done in previous years. Well, the holiday season came and went, and to our surprise, there was no new NOOK tablet.
Luckily, things are a wee bit different this time around, as Barnes & Noble is partnering with Samsung for its latest NOOK tablet – the Samsung Galaxy Tab 4 Nook. Indeed, it's just like the existing 7-inch sized Samsung Galaxy Tab 4 we've reviewed already, but it's been enhanced on the software side to provide users with the best reading experience. So, does it actually live up to that claim?
Design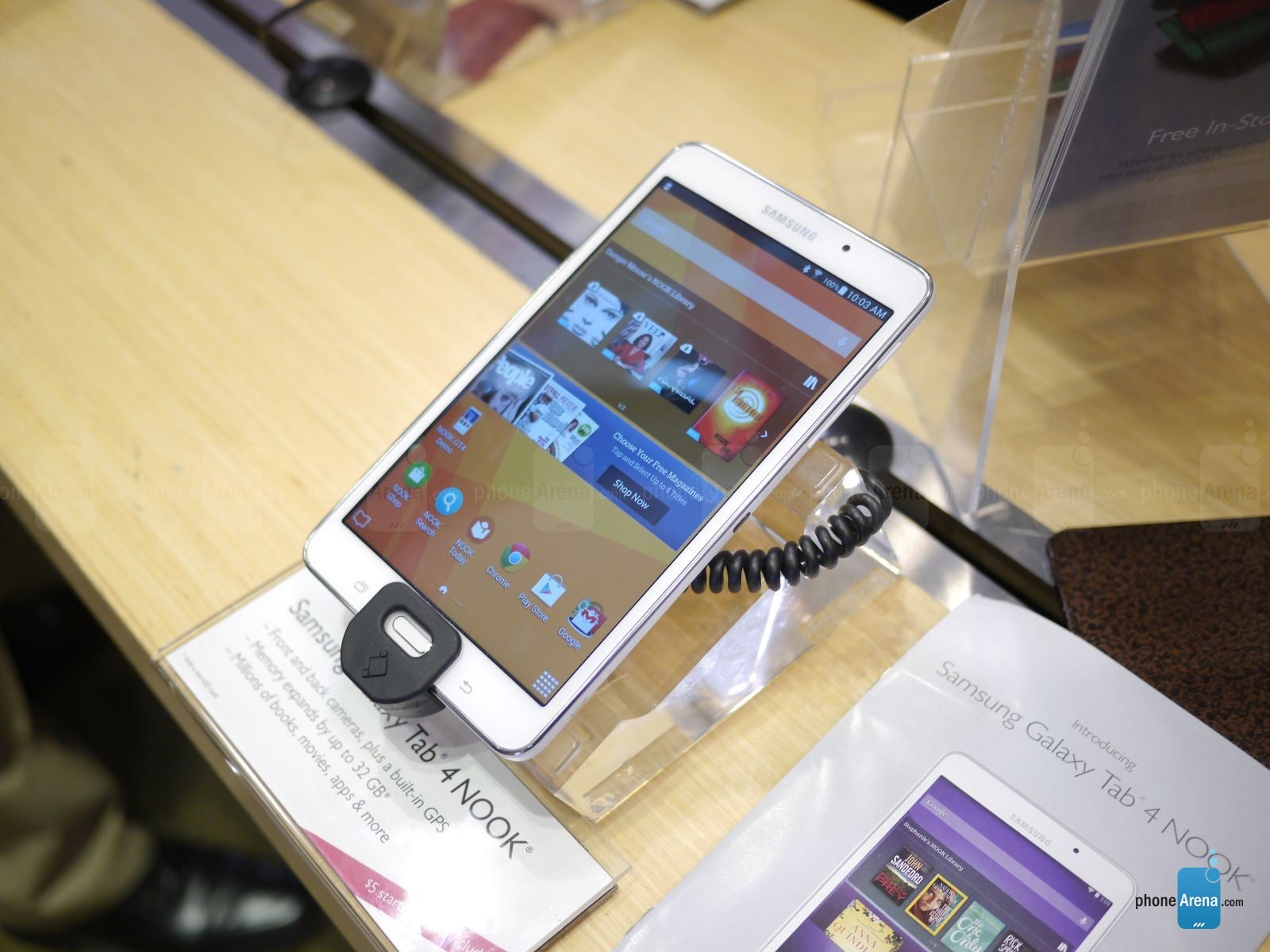 We surely remember the previous NOOK tablets: the original NOOK Tablet, then subsequently the NOOK HD and NOOK HD+. Looking at them, most people would have some time difficulty differentiating them because of their identical designs.
Now that they're partnering with Samsung, the Galaxy Tab 4 Nook ditches the old Barnes & Noble design scheme and goes with Sammy's distinctive one. In all fairness, though, there's nothing too astounding here with the Samsung Galaxy Tab 4 Nook, which flaunts the same design used the 7-inch Galaxy Tab 4. Despite the predictable look, it's still the same plastic constructed tablet that's pretty manageable for reading – thanks in part to its compact size and lightweight feel.
Display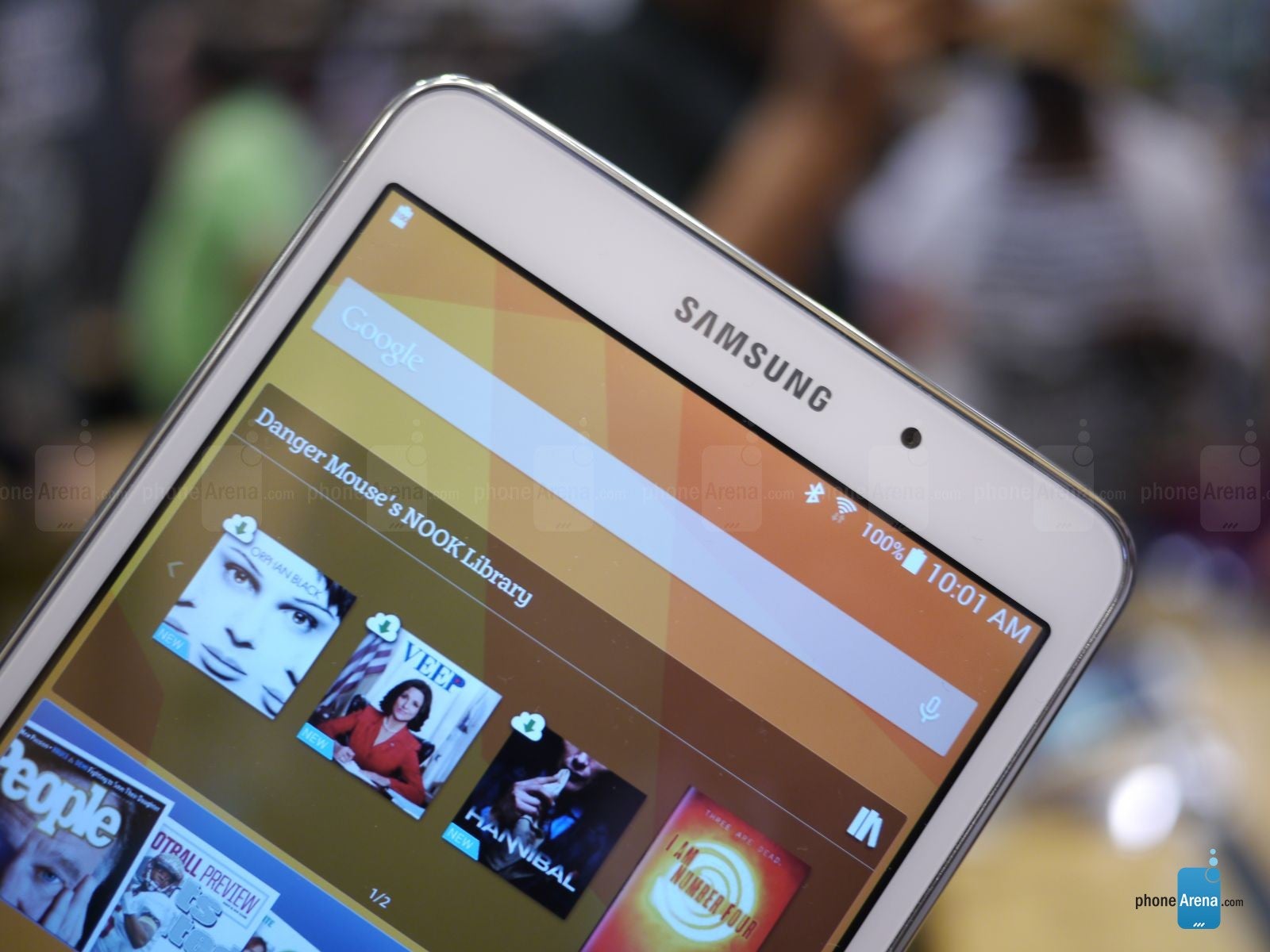 During the announcement of the tablet, Barnes & Noble's CEO deemed the Samsung Galaxy Tab 4 Nook to offer the best reading experience. Certainly, that's a tough sell from the onset because it employs a 7-inch 1280 x 800 LCD display, which is a far cry from the higher resolutions of other comparable tablets in its segment. Yes, we'll attest that the resolution is good enough for reading books and magazines with minimal squinting on our part, but in order for it to "offer the best reading experience," we would've preferred to see something more outstanding.
Regardless of that, we can't complain about the display's pleasant qualities. From a quick glance, it exudes a slightly more saturated tone for an LCD-based display, which isn't a bad thing per se, especially when it allows the screen to come to life when viewing photos and videos. In addition, it features great clarity and wide-viewing angles, which in a way, helps it to offer readers a great viewing experience in different conditions.
Interface
Before its announcement, we presumed that this tablet would offer an experience that adheres to the Nook ecosystem. Indeed, it does exactly that, as it boasts some exclusive Nook experiences that are baked into the platform – like its Nook Shop, Nook Search, and Nook today apps. In fact, these items are exclusive to the Samsung Galaxy Tab 4 Nook, which you won't find elsewhere.
Best of all, unlike previous Nook tablets, this one now has access to the Google Play Store – giving it the depth we sorely yearned with the other Nook tablets. And of course, Sammy's TouchWiz experience provides users with all of the productivity and multimedia features to make this tablet far superior to everything Barnes & Noble put out to market previously.
Needless to say, if you're already invested into the Nook ecosystem, you'll easily adapt to this experience a whole lot more than someone who hasn't. As a general Android tablet, though, we wouldn't go far to say that it blows everything out of the water, but it has enough goodies to make it both a fun and play tablet that can be used by everyone in the family.
Processor and Memory
It's not the shiniest piece of silicon in the landscape, but the tablet's quad-core 1.2GHz Cortex A7-based chipset with 1.5GB of RAM is more than adequate to give the magazine experience its smooth looking page folding transition effects. Basic operations, of course, are easily handled by the hardware, but you might be pushing it with more intensive stuff – like running today's latest 3D games, or heavy multi-tasking with its multi-window mode.
Armed with only 8GB of storage, that's nowhere near enough to appease multimedia buffs. However, there's a microSD card slot on one of its sides to help supplement its paltry internal capacity.
Camera
Considering that this is meant primarily for reading, we can't be too critical about its 3.2-megapixel camera. Naturally, it's there for the mere convenience of being able to shoot something in the event you don't have anything else better on hand at the time something comes up.
Expectations
From the onset, Barnes & Noble will be selling the Samsung Galaxy Tab 4 Nook for the promotional price of $179 – so who knows when that'll end. Without question, this is the best Nook based tablet to date, easily beating the Nooks of past in terms of functionality and design. However, we still need to point out some of its main rivals, like the Amazon Kindle Fire HDX 7, which sports a higher resolution display at $229. Budget conscious individuals should keep an eye out on this new Nook tablet, but with so many inexpensive tablets out there to choose from, we can't say that these exclusive Nook experiences are going to be enough to combat the competition.