Some Samsung Galaxy S9+ devices reported to have a malfunctioning touchscreen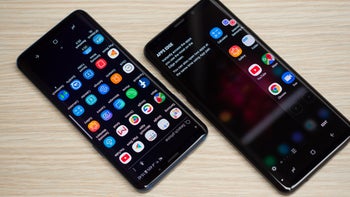 You've just bought your new, shiny
Samsung Galaxy S9+
and you're skipping around just like the Little Red Hood, filled with joy and happiness. "I'll text my friends and tell them about my new toy," you think to yourself and proceed to open the Samsung Messages app. Gushing with enthusiasm, you write your friend a message: "I'v bought th grtst phon of my lif". Before you send it though, you notice there are some letters missing, namely E and some Ts. "What kind of sorcery is this," you think. No, it's not sorcery, it's just a touchscreen bug.
Apparently, some Samsung
Galaxy S9+
devices have issues with their touchscreen where it doesn't register pressing. Not the whole screen is affected, but rather a small part of it surrounding the letters E, R, and T on the Gboard keyboard (you dig the intro now, don't you). Some users have also reported screen "dead" spots around the top or bottom bezels and near the edges of the
Galaxy S9
+. There've been some reports of the issue on the regular
Galaxy S9
, but they are much less than on the S9+.
We've listed down some user reports regarding the touchscreen issue below:
1) So pissed. My S9+ top part of the screen just died. I cant pull notification down… 3 day old phone
2) My S9+ stop registering touches on the top and a few other spots… Sucks man!

3) Does anyone else have issues with the Galaxy S9 touch screen? I've got a few dead spots on the bottom half of my screen. Getting a replacement phone shipped but do wonder if it is bad luck or a more common issue with the phone
The touchscreen issues are most likely related to the hardware of the Galaxy S9+, although we've never seen a Galaxy flagship to have such problems. Those also are some of the first devices shipped, so the hardware will probably be fixed by the second "wave" of Galaxy S9+ devices.
The issue seems to plague a relatively small number of devices, but in case your Galaxy S9 / S9+ has a malfunctioning touchscreen don't hesitate to immediately visit the retailer or wireless operator you've bought it from and ask for a new device. Touchscreen problems are covered by your warranty, so no reason to hold on to a broken device.