Samsung Galaxy S8: no 3.5mm jack, fingerprint embedded in display, ditches PenTile display
99+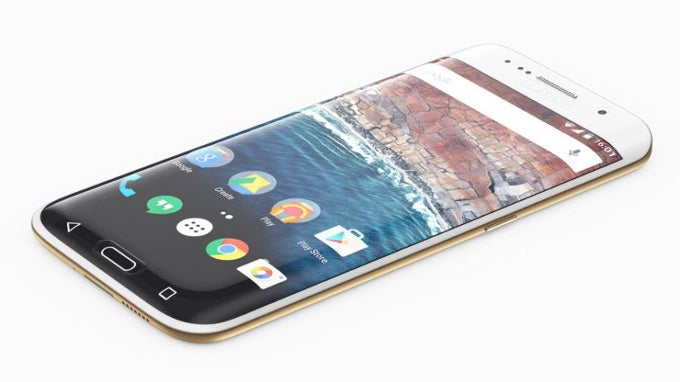 An artistic concept for the Samsung Galaxy S8
The Samsung Galaxy S8 is expected to be unveiled to the general public at the end of February 2017, at the 2017 Mobile World Congress (MWC), but today, some three months before the big event, some interesting details about the phone have surfaced.
There are three big and controversial news about the Galaxy S8: first, it will get rid of the 3.5mm headphone jack in favor of a wireless future, but also to free up space for additional components and / or larger battery; second, it will get rid of the physical home button and replace the fingerprint scanner with an optical finger recognition system built inside the display; third, it will kill the PenTile Diamond pixel arrangement in favor of the traditional RGB color arrangement. The latter will make the screen appear more detailed, while retaining the same 1440 x 2560-pixel (Quad HD) resolution.
And yes: the Samsung Galaxy S8 will also have a USB-C port for charging and syncing the device.
With this in mind, let's expand a bit on each of these new features. First, the display. Thankfully, all those wacky rumors about the possibility of a 4K display are refuted. Why are we so glad about this? Simple: except for VR you really don't need a 4K display on your phone, as one can barely tell how much sharper a Quad HD screen looks against a Full HD one. What will improve in the Galaxy S8, however, is the number of pixels: previously, Galaxy phones shipped with Super AMOLED displays with the diamond pixel arrangement. At a Quad HD resolution, this worked out to 7,372,800 sub-pixels on the screen (counting not only the individual pixels, but the sub-pixels that make each pixel). On the Galaxy S8 with its new RGB color arrangement, you will have a massive 11,059,200 sub-pixels, which is 50% more.
Next, the removal of the headphone jack will upset a lot of people and we're curious to see how Samsung will motivate such a move. What it can also result in is a thinner phone, bigger battery and / or the inclusion of stereo speakers. Not the worst of trade-offs.
Finally, the new USB Type-C will make the Galaxy S8 compatible with the latest Gear VR by Samsung, while still allowing for standardized fast charging solutions for the battery.
All in all, this lifts the cover of mystery over the Galaxy S8 a bit, but keep in mind that such early leaks should not be considered official in any way. Samsung is expected to unveil the Galaxy S8 at MWC in late February and we'll likely be seeing many more leaks until then.