Samsung Galaxy S7 edge can seemingly survive for 16 hours underwater
40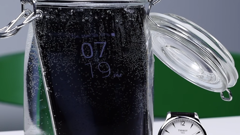 While they don't look too different compared to last year's S6 and S6 edge, Samsung's
Galaxy S7
and
Galaxy S7 edge
come with important features that their predecessors do not have, one of them being dust- and water-resistance.
Both the Galaxy S7 and S7 edge are IP68-certified. According to Samsung, this means they can survive up to 30 minutes in up to 5 feet (1.5 meters) of water. However, it looks like the handsets can remain safe and sound underwater for much longer than that.
Unbox Therapy recently made an experiment with a Samsung Galaxy S7 edge, dumping it (powered on) inside a jar full of water for no less than 16 hours and 36 minutes. The device survived, seemingly working just as before being left underwater. Of course, it's worth mentioning that the water inside the jar exerts little pressure on the phone. We don't know what could happen if you leave a Galaxy S7 at, say, 1 meter underwater for so many hours (pressure obviously increases with depth). But we don't advise you to try that, and, honestly, neither the jar experiment.
Hopefully, if you own a Galaxy S7 or S7 edge, you won't have to deal with extreme cases like the one we're presenting here, even if the smartphones
may
be able to survive underwater longer than the time advertised by Samsung.