Samsung Galaxy S7 Edge Batman Injustice Edition unboxing and first look
20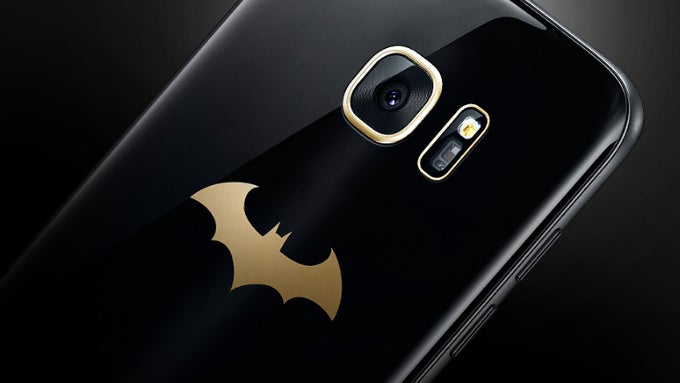 Batman fans, here is something special for you: the brand new Samsung Galaxy S7 Injustice Edition has just landed in our office and it is a thing of style and beauty.
Transformed to fit the black theme that is associated with the superhero that oversees Gotham City, this Galaxy S7 Edge Injustice Edition comes in a big black box and itself has an evolved design.
With an all-black body and gold accents, including a prominent Batman logo on the back, this phone also lacks the typical Samsung logo on the back. Instead, the Samsung brand name is written up front, right below the earpiece. The metal frame that is silver on the regular Galaxy S7 Edge, here is a black affair as well, contributing to the mood and feel of this device. The gold finish on the home key, the camera and the earpiece is also something that makes the phone appear very exquisite.
All black with golden accents... a beauty
What else is in the box? Samsung is giving away a free VR - as it does with other Galaxy S7 phones - but this time around it's a Black virtual reality headset. You can't imagine Batman wearing a white VR headset, can you? Unfortunately, the charger, microUSB cable and the included set of earbuds are all white and that seems a bit off given the otherwise all black theme here.
Firing up and setting up the phone is the standard process, but once you're done a Batman theme is automatically applied. It comes with a big and good-looking Batman wallpaper, as well as icons redesigned to all serve the theme of your favorite superhero. Most customizations here are a bit over-the-top and we prefer a more stock feel (even for a Batman phone), but luckily you can easily disable the theme and switch to TouchWiz or some other custom theme in the Samsung App Store.
Finally, the Batman sign collectible, a shuriken-like toy is also included to give you some extra street cred. We don't know what would be its practical purpose, but the cool factor for it definitely is high.