Samsung Galaxy S7 & S7 edge - hands-on with the official accessories & cases
4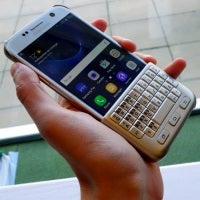 At MWC 2016, we spent some time in the company of Samsung's official accessories and cases for the Galaxy S7 & S7 edge. Samsung's made sure you won't be starved for choices when it comes to tricking out the fancy new smartphone you bought. However, there's nothing out of the ordinary with the stuff that Samsung's outed, either. There's the physical keyboard attachment, a bulky battery case, a window case, a window-less one, and a clear back case.
Samsung's physical QWERTY keyboard attachment made its first appearance last year, made to go with the Galaxy Note 5 and Galaxy S6 edge+. Despite the lack of love for physical keyboards among manufacturers and casual user, the accessory must have proven popular enough as Samsung has repurposed it for the bigger Galaxy S7 edge. The back part of the attachment is fixed to the smartphone, then the keyboard slides over it, pushing the screen contents upwards and letting you type like in the old days. The keyboard is sold in two colors, Black and Gold.
Unlike last year's battery case for the Galaxy S6, the one for the S7 has an opening for the camera, which is, arguably, a sound decision on Samsung's part. It's big, black, bulky and it looks like it could take a beating!
The Window case protects the smartphones from all sides, while taking advantage of the Always-on functionality to let the user take calls, make photos, and view notifications without opening the case. The windowless one looks just like it, but without the cutout. It takes a design cue from HTC's dotted case, showing the time below the speaker cutout.
As for the clear back case, there's nothing of note about it. It protects your smartphone from the back, sides, and corners without hiding its stunning good looks.
Pricing information when it comes around.