Samsung Galaxy S6 vs HTC One M9 (Hima): Here's what to expect
33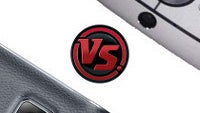 Counting the days until MWC 2015? Yeah, us too. And how could we not? At present, we're expecting at least three new flagship announcements – one from Sony, one from Samsung, and one from HTC. Those latter two are the ones we'll be looking at today, for it is fair to say that the rumor mill has once again delivered on sporadic, but welcome intel. Strictly speaking, nothing that we think we know should be taken as something set in stone – plans change, rumors prove false, speculations fail to pan out. Regardless, it would be completely unfair of us to not admit that the various industry leaksters and insiders haven't been right on the money many times in the past. It is why we continue listening to what they have to say.
In the case of the Samsung Galaxy S6 and the HTC One M9, here's what the word on the street is.
Design
Samsung excels at many things, but has so far failed to really intrigue us with the designs of its Galaxy S line. The Galaxy S5, for example, stuck to the same old plastic built with arguably tacky ornamentation, despite the constant feedback from the community that clearly stated its preference for more premium-feeling materials like aluminum and glass. The Galaxy S5, however, was released in a different world from now – a world in which Samsung is suddenly losing steam and is finding itself in need of a shake-up. That shake-up is called Project Zero, and it's how Samsung refers to the Galaxy S6 internally from what we've heard. The company is apparently hitting the reset button.
So what does that mean? Well, word on the street is that the Galaxy S6 will be re-designed from the ground up and finally include premium materials within its body. We know of two possibilities so far – the S6 will either feature a full aluminum unibody or just an aluminum frame (alike to the Note 4) and glass panels at the front and back. Considering Samsung's approach with the Note 4, we believe the latter scenario to be more likely, which means that the GS6 will definitely class it up, but probably not as much as the HTC One M9.
Codenamed "Hima", the One M9 is expected to feature a very similar design to its predecessor, the One M8, and that means the same aluminum unibody. This time around, however, HTC is said to be utilizing aluminum silicon-carbide composite, which is expected to provide the M9 with better micro-hardness and ultimate tensile strength (UTS). Compared to the One M8, Hima will also feature smaller bezels, smaller front-facing speakers, an extra button next to the volume rocker on the right (a camera shutter key?) and a giant cutout for the rear sensor. All of this is based on supposed prototypes of the M9, so keep that in mind.
Display
We expect 2015 to be the year in which the term "phablet" will start its gloomy march towards extinction. Why? Simply because flagship devices are likely to crawl ever closer to 5.5-inches, which we tend to consider a phablet-sized screen. After a small, 0.1-inch increase in screen real estate from the Galaxy S4 to the Galaxy S5, whispers on the grapevine are heard speculating that the Galaxy S6 may go for either a 5.2- or 5.5-incher of a display. As for resolution and make, we expect to see a Quad HD (1440 x 2560) Super AMOLED panel, and one that will hopefully do better than the GS5's in terms of color reproduction.
As for the HTC One M9, the back story is quite different. Back in 2013, the HTC One (M7) was actually the smallest flagship in terms of display size compared with other mainstream Android makers (4.7-inches versus 5-inches). With the One M8, HTC bumped the size to 5-inches, but competitors were still ahead – Sony with its 5.2-inch Xperia Z2/Z3, Samsung with the aforementioned, 5.1-inch Galaxy S5, and LG with the 5.5-inch G3. According to rumors, HTC may or may not stick to that same strategy of being conservative in this regard. In other words, the current assumption is that the One M9 will either come with a 5-inch, 1080 x 1920 resolution display or a 5.5-inch one with Quad HD (1440 x 2560) resolution. If we have to be completely fair, so long as it keeps the pixels-per-inch count above 400, we'd actually prefer a 1080p panel – it's much easier on the battery and processor, and preferable, in our opinion, over what are arguably small improvements in image sharpness.
Interface
While the Samsung community admittedly doesn't share our stance on TouchWiz, we do feel like Samsung's proprietary software has grown way too fat and clunky. Hiccups are visible even with bleeding edge hardware, and the interface as a whole could be far more welcoming to newbies, who can easily get lost in one of the many, many sub-menus of TouchWiz. Thankfully, one of the latest rumors on the Galaxy S6 suggests that Samsung will be going for a more stock-like Android experience starting with the Galaxy S6 and ditch unneeded functionality. We're not entirely sure if that will, indeed, end up being the case, but at least we're safe in the assumption that whatever the Galaxy S6 ends up offering software wise, it will be served with Android 5.0 Lollipop as a base.
As for the HTC One M9, we're a little light on details about its expected Sense UI bump to version 7.0. What we do know is that the minimum acceptable Android version it can allow itself to arrive with is Android 5.0 Lollipop. We've seen Sense on Lollipop already, and liked what we were seeing. Then again, we like Sense on the whole – it's very lean and down to point. On the other hand, however, it is a bit too light on extra features, and that
does
affect HTC's sales, at least when techies are concerned.
Processor and memory
Processors-wise, Samsung has largely depended upon Qualcomm, but also on its own semiconductor arm, which manufactures the Exynos line of chipsets. Usually, a Galaxy S flagship will have a variant with each, with either being distributed in different regions. A Bloomberg report, however, suggests that Samsung may well be ditching Qualcomm and its chips altogether in favor of its home-grown Exynos 7 Octa – the same or a variation of the processor available with some versions of the Note 4.
One cited reason for this is the alleged overheating of the Snapdragon 810, though manufacturers like LG have denied such a problem. Obviously, money also figures somewhere in there. Besides, with Samsung's new S-LTE modem now in production with the South Korea-exclusive Note 4 S-LTE flavor, one of Qualcomm's major advantages (support for multiple LTE bands) is becoming moot. Samsung's blazing-fast modem is built on a 14nm process and satisfies Category 9 LTE specs, meaning download speeds of up to the mind-blowing 450 Mbps – so fast that only South Korea's SK Telecom's record fast new network can actually claim to be adequate. That said, numerous reports seem to agree that Samsung simply can't yet rely solely on itself and will likely have no choice but to go continue its partnership with Qualcomm, so a Snapdragon 810 in your Galaxy S6 is still possible.
A Snapdragon 810, precisely, is what we're told to expect the HTC One M9 to ship with, and we'd bet the same. HTC is a tiny company in comparison, and one that is entirely focused on smartphone manufacturing, so its partnership with Qualcomm is unlikely to be under threat. As for the amount of RAM on board, rumors say 3GB – for both the Galaxy S6 and One M9. Rumors
could
end up being proven wrong, for both devices' 64-bit processors can theoretically utilize 4GB of RAM.
Camera
When it comes to camera quality, Samsung's flagships have consistently ranked among the best on the market. The Galaxy S5 was no exception at the time, and neither is the excellent unit on the Note 4, so we have good reason to expect a top notch sensor with the Galaxy S6, too. Currently, it is speculated that Samsung will either go for the optically-stabilized, 16-megapixel camera found on the Note 4 (perhaps with a few improvements here and there) or a different, 20-megapixel shooter. Another sweet detail that we've been talking about lately is the front-facing camera of the S6, which could be as generous as 5-megapixels (the Note 4 offers a 3.7-megapixel selfie snapper).

As for the One M9, we actually have an interesting development (supposedly). If rumors are true, then HTC's highly controversial UltraPixel sensors have reached their end-of-life (kind of) and will not make an appearance on the back of the company's upcoming flagship. Instead, a more conventional, 20-megapixel unit with optical image stabilization is what sources are telling us (Bloomberg included). Whether that means a possibly identical sensor between the GS6 and the Hima remains to be seen. As for the front camera, that's where the UltraPixel snapper might be exiled to, which would actually mean that the M9 may just end up as one of the best selfie phones around.
Expectations
Samsung's smartphone arm is struggling, and HTC has been doing even worse. When the knife starts getting near the bone, we tend to expect bold moves that can easily transform into successes, but also monumental flops. From what we
think
we know so far about the Galaxy S6 and the HTC One M9, neither really sounds like a disappointment, but specs and design are only part of the game – distribution, marketing, and carrier deals also figure into the success equation.
Based on the two's respective past flagships, we obviously forecast bigger sales volumes for Samsung's next flagship, but that doesn't mean that HTC can't conquer new ground with the M9. In fact, with them ditching the under-performing UltraPixel camera, the One M9 could materialize as a true, no-compromise device (within a reason, of course). We aren't underestimating Samsung, either, however. As we pointed out, the company is really hurting, and that should have its team motivated to prove that Samsung is still a force to be reckoned with.
As for release dates and prices, we have to admit that nothing is quite certain. What we do have good reason to believe, however, is that both devices will be showcased during MWC 2015, which means early March. A subsequent release on the market will likely take place sometime in the spring. In terms of pricing, we expect both the Galaxy S6 and the One M9 to take their predecessors' price slots, so $199 on a 2-year contract in the US, or about $650 unlocked.