Samsung Galaxy S6 edge vs iPhone 6 Plus: Optical image stabilization comparison (video)
33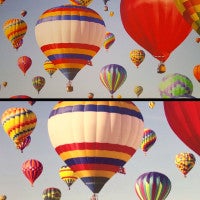 It took a while for manufacturers to get there, but now it seems almost certain – optical image stabilization in smartphone camares is here to stay. At least at the flagship level.
Ineed, after making the step with the
Galaxy Note 4
, Samsung is now also making OIS a part of the Galaxy S6's and Galaxy S6 edge's respective camera stacks. Put simply, this will allow the shooter to nullify a big portion of shake and tremors during video capture and also unlock the camera's potential in low light environments by letting it slow down the shutter and allow more light in.
In order to test out Samsung's solution, we used a staging area that the company had erected for the purpose, and put both the Galaxy S6
edge
and the Apple
iPhone 6 Plus
(also with OIS) next to each other on a wobbly platform. You can see the results of the test in the short clip below. Anybody impressed?