Samsung Galaxy S6 edge+ vs Samsung Galaxy Note5: first look
3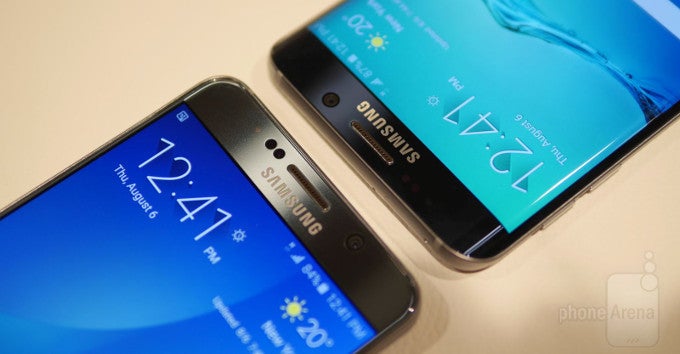 When looking back on Samsung's 2015 many years from now, we may very well find ourselves in a position to say, "Ah, there!", whilst shoving a finger on the calendar, pointing at the August 13th date — the culprit for the demise, of the Galaxy Note series. Yes, that's a pretty dramatic, and quite gloomy, prediction, but it's also well-grounded into reality: Samsung has never before forced its phablets to compete for sales with devices from other product lines. With the Galaxy S6 edge+ made official alongside the Galaxy Note5, however, that's about to change.
At the heart of it, there are really only two differences between these two devices: curving or standard screen, S Pen stylus or none at all. That's it. The rest — from the size of the display, through the silicon packed on the inside and the optics at the back, down to the glass-on-metal exterior — all match, making the Galaxy S6 edge+ and the Galaxy Note5 two distinct, but very similar products.
Let's take a preliminary look and see if we can dig out more.
Design
Utilitarian. Pragmatic. Plain. That's what Samsung design used to be until the Galaxy S6, which finally shook things up and launched with a slick, glass-on-metal body that impressed even long-time Samsung detractors. Sure, ultimately, it's about taste, but it's generally safe to argue that the S6's is among the very best designs Samsung has come up with in recent history.
As can be expected from a company juggling a number of product lines, 'recognizability' is an important branding tool. That is, Samsung wants its devices all to look like... unmistakably Samsung devices. So it comes as no surprise that both the Galaxy S6 edge+ and the Galaxy Note5 are very alike to the Galaxy S6 edge and Galaxy S6, respectively, which in turn are nearly identical save for that snazzy, curvy display.
So, with the Galaxy S6 edge+, we're simply looking at an engorged Galaxy S6 edge — save for a missing IR blaster. Beyond that particular sensor, however, the Galaxy S6 edge+, as the name implies, is essentially identical to the standard S6 edge. In the case of the Note5, however, we have some more deviation, with a Corning Gorilla Glass-protected back panel. The frame also constricts as it approaches the middle of the device, before going back to matching the width of the profile at top and bottom portions. If anything, this particular portion of the device reminds us a whole lot of the Xiaomi Mi Note Pro.
Display
No ridiculous 4K resolution panels made it to Samsung's production belts, thank God, so we're looking at two displays that share characteristics: 5.7 inches in diagonal, with a resolution of 1440 x 2560. That's a pixel pitch of 515 ppi, which is more than enough for even those among us who really
do
spot the difference.
Since we only had limited time alone with both the Galaxy S6 edge+ and the Galaxy Note5, we obviously couldn't whip out our gear and get some actual readings from the Super AMOLED panels themselves. In other words, for the time being, we won't be able to comment on the calibration of these, and whether they're a step forward, a step backwards, or neither.
Finally, while we don't have official confirmation for this, it's relatively safe to assume that Samsung has gone to Corning once again and ordered a fat batch of its Gorilla Glass 4 protective covers for use with the displays of the two new phablets.
Interface
We know Samsung's TouchWiz interface of old was appreciated by just as many folks as it was hated by, but we'll be blunt and admit that if we had to self-identify, we'd probably have more in common with the latter group. Not so much nowadays, however, or indeed — ever since the Galaxy S6 made its debut at MWC 2015, packing a trimmed and much smoother iteration of the company's proprietary software.
As you can imagine, this new take on TouchWiz is making it to the S6 edge+ and the Note5 (based on Android 5.1.1 Lollipop), though right away we spotted a few additions that are not yet available with the S6 and S6 edge. For starters, the most striking change is Samsung going for Symbian Belle-like, round icons, which we kind of like. Another addition is an improved PC software for Windows, which will now let you check up your notifications and see your screen in real time, along with a number of new camera features that we'll talk about shortly.
Obviously, the S6 edge+ and the Note5 differ in terms of what their interfaces offer functionality wise in terms of their 'hidden weapons', so to speak, meaning the curved screen and S Pen stylus, respectively. Starting with the former, you for example get the 'Ticker' system of the edge screen, allowing you to swipe through various widgets available for the sliver of screen real estate — like clock, Twitter ticker, stocks, etc. The auxiliary screen also gives you quick access to contacts and favorite apps.
Turning to the Note5, it's all about that S Pen, and that's not nothing. For starters, Samsung has made the process of retrieving the stylus semi-automatic, so you can use the spring mechanism to pull out the S Pen easily. Doing so whilst the screen is off will let you take a quick note on a black background (new to the Note series), and Samsung has also re-worked the Air Command menu that pops up every time you pull out the stylus, and it now stays around for longer and lets you add your own shortcuts to favorite apps.
Samsung Galaxy S6 edge+ on the

left

, Galaxy Note5 on the

right

.
Processor and memory
While Samsung's been making SoCs for years, until quite recently its top-tier devices were mostly packing Qualcomm silicon in major markets, with Exynos chips being utilized in non-key regions. With the introduction of the Galaxy S6 and S6 edge, however, things changed.
Not only is Samsung now completely independent in this regard, but its Exynos 7420 was built on a very advanced, 14nm FinFET processor, overshadowing Qualcomm's flagship Snapdragon 810, which uses an older, less-efficient 20nm method. Both real and synthetic benchmarks agree that the 7420 is mighty powerful. So it makes sense that Samsung used it for both the S6 edge+ and Note5, right?
Sure, some of us were expecting an even newer solution, but the reality is that development in the field still takes time, not to mention that the Exynos 7420 remains a safe bet with demanding, Quad HD smartphones. Where the two devices improve upon their predecessors is the RAM department — both pack 4 gigs. In terms of storage, we're looking at 32GB standard, with
no
option to expand through a microSD card.
Camera
If there's one area of these two devices that specs junkies would consider a little stale, it's the camera stacks — it's essentially the same thing from last year. Indeed, both devices feature an identical config, with a 16-megapixel main camera with very wide,
f
/1.9 lens, optical image stabilization, and an LED flash. That's actually identical to what the Galaxy S6/S6 edge have going on for them, and even the Note 4's specs sheet here read identically. Of course, there's always room for improvement on the software side, and Samsung has, thankfully, taken the opportunity.

The changes to the camera app that we mentioned earlier come to mind. First and foremost, Samsung is correcting the odd mistake of leaving out shutter speed controls from its otherwise self-styled 'Pro' mode, so that's good. In addition, the engineering team has also worked out a new Live Broadcast shooting mode that lets you stream directly to YouTube, along with a new Video collage mode that we unfortunately didn't have the opportunity to play around with.
Finally, up front we're looking at a 5-megapixel wide-angled camera with both devices, quite possibly the same unit available with the Galaxy S6 and S6 edge already.
Expectations
Both the Samsung Galaxy Note5 and Galaxy S6 edge+ will be made available starting August 21st, though that's pretty much all that we can say for certain at this point. Samsung didn't comment on market availability of the two models, which is an important question as the company might just be planning on offering just one or the other in some regions. We are also light on carrier and pricing details, though these two are usually rather easy to guess.

For starters, the Note5 at least, will likely launch on all major US carriers, and indeed most networks around the globe, though the Galaxy S6 edge+ may prove elusive in comparison. Of course, Samsung may have ramped up supply this time around (the Galaxy S6 edge was understocked at first) and stand prepared to meet demand. Finally, in terms of pricing, we have two guesses — $299 for both devices with a 2-year commitment, or the traditional, $299 slot for the Note5, and the more expensive, $399 position for the extravagant Galaxy S6 edge+.