Samsung Galaxy S4 mini to run on big.LITTLE Exynos 5210
21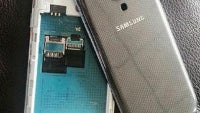 The
Samsung Galaxy S4 mini
is not much of a secret anymore - the device has leaked time and time again, but now we have one more source confirm that it will run on the Exynos 5210 chip, a big.LITTLE architecture that should combine power efficient Cortex A7 cores with performance driven Cortex A15.
Samsung and Korea Investment & Securities has reaffirmed information of Samsung going with the Exynos 5210 and a leaked spreadsheet shows the rest of its specifications we know about. The Galaxy S4 mini should come with a 4.3-inch qHD display. The inner stuffing might vary depending on the market - LTE markets could get 2GB of RAM, while 3G territories will get only 1GB of RAM.
Interestingly, the S4 mini is listed with a whopiing 32GB of internal storage and a 2100mAh battery.
One strange thing in the spreadsheet below is the fact that it states the S4 mini will run on Android 4.0 Ice Cream Sandwich. That is most likely a typo - Samsung would almost definitely not release a 4.0 device at this point in time.
source:
Mobilegeeks