Samsung Galaxy S III rumored to come at MWC 2012 with a quad-core chip, a Galaxy S 3D could also be in the making
59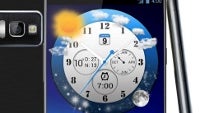 The next Samsung flagship, probably the Samsung Galaxy S III, has been rumored yet again to arrive at the Mobile World Congress (MWC) in February 2012, and expectations are that it will run on a quad-core processor. Previously, a
leaked slide
allegedly coming from Samsung stated that the device will feature a 1.8GHz dual-core processor.
This time, the news comes straight from Korean publication ETNews, and it suggests that Samsung has opted for a
quad-core solution
. The yet unofficial Exynos 4412, a 32nm quad-core Cortex A9 chip is one candidate rumors have been trying to tie up with the allegedly upcoming Galaxy S III. Other more unlikely options include the Exynos 5xxx lineup which includes such chips as the dual-core Cortex A15-based Exynos 5250. The problem with that is timing - the Koreans will only have the chip later in 2012.
Otherwise, here's what we can expect from a Samsung Galaxy S III:
- big, possibly 4.6" HD (1280 x 720) Super AMOLED Plus display,
- LTE connectivity,
- Android 4.0 Ice Cream Sandwich
- camera capable of capturing 1080p video, rumors say a 12MP shooter.
Other somewhat surprising news from the rumor mill is that Samsung is actively working on 3D. The technology didn't really catch up widely with only two 3D phones released stateside - the HTC EVO 3D and the LG Thrill 4G. It's not yet clear to what extent Samsung plans to integrate 3D, but ETNews says that it's possible that the Koreans release a separate phone focusing on the feature - probably a
Samsung Galaxy S 3D
.
The name definitely makes sense as company's Galaxy S lineup has been a huge success bringing over 30 million sold units in the couple of years it's been on the market.