Samsung Galaxy S III accessories shown on video
8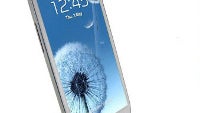 The Samsung Galaxy S III is already breaking sales records in the Android universe, and one thing you might want to pick up after getting the SGS III is accessories. Luckily, Samsung has got you covered here with the essentials - a desktop dock and a neat holder and battery charger, as well as a Wi-Fi Display Hub for beaming your hi-def video straight to an HD TV, and then a C-Pen styles for more accurate input, and finally the flip cover which should make sure your Galaxy S III remains in mint condition, keeping resale value.
Now, all five accessories have been demonstrated on video and you can check out how they look and perform below.
Are you getting any of the above? Which accessories you think are a must-have for a smartphone like the Samsung Galaxy S III, if any?