Samsung Galaxy S III: Burst Shot/Best Photo camera features demo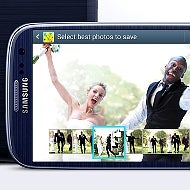 Samsung is bringing the 8MP camera module on the
Galaxy S III
in line with the sub-second times of phones like the Xperia S, iPhone 4S, and the HTC One series, but it has introduced a number of new camera features as well.
The back-illuminated sensor on the phone is capable of a Burst shot mode, that can shoot 6 frames per second, compared to 4 on the HTC One series, up to 20 frames in total.
In Best Photo mode the phone takes 8 shots at that speed, and afterwards you can let the software decide which one of those is the best looking, and keep it for you, or you can do it yourself - this is present with those
HTC ImageChip
new One phones as well, so Sammy is just playing catch up here. Nevertheless, with the 1080p video recording and those new modes, the handset will be future-proof in the camera department for a while.