Samsung Galaxy S Duos is a cheap, dual-SIM Galaxy S III look alike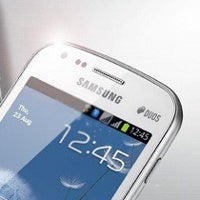 So far, Samsung's Galaxy Duos lineup of dual-SIM devices has been a pretty popular choice in developing markets where people want to have two SIM cards and connections to two operators at the same time for better signal and economy, but the choice of devices was limited largely to older models.
For the first time, it seems that Samsung is bringing its hottest device to the dual-SIM worls - the
Samsung Galaxy S Duos
leaked out in India, and chances are we can see it in a few Asian countries and maybe some other markets, but hardly the US.
The
Galaxy S Duos looks just like the Samsung Galaxy S III
, but - of course - it has far less capable internal parts. For starters, the screen will be smaller, at 4 inches rather than 4.8" and with a resolution of 480x800 pixels. The phone will luckily run on Android 4.0 Ice Cream Sandwich, but not much is known about the processor. It will have 512MB of RAM and 4 gigs of internal storage, though.
The focus as you have probably guessed by now is the appearance. We don't know whether launching such a device would be a good idea - Samsung would definitely take some of the appeal of the Samsung Galaxy S III if millions of look-alike cheapo phones start to appear. And that's what makes us doubt this whole rumor. But if it does, some users might be happy. What about you, are you one of them?
source:
MobilePhone.co.in
via
Engadget