Samsung Galaxy Prevail Hands-on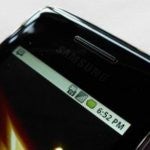 When you think of Android, it's a safe bet to say that the Motorola i1 isn't one of the first devices to pop into mind for anyone, but for Boost Mobile customers, it's sadly the only option available when it comes to experiencing Android. Tonight, Boost Mobile and Samsung held a special event in New York City to officially unveil the prepaid carrier's next big thing – the Samsung Galaxy Prevail. Thankfully, it's a modern Android powered device that's sure to impress customers thanks to Froyo being on board. However, the most surprising thing with this one is none other than its
jaw dropping no-contract price of $179.99
– which of course, goes well with Boost's $50/month unlimited plan.
Even before picking up the Samsung Galaxy Prevail, the first thing to come to our mind is expecting a flat out cheap device, however, we're at a gasp after beholding one physically. First of all, its
solid feel and polished looks
jump out at a first glance – but it's even more surprising to find it extremely light weight. Overall, the size is quite manageable versus some of the heftier sized Galaxy models out there. In addition to that, we do like the charm it's radiating thanks to its glossy piano black plastic and soft touch rear cover.
Turning it on, we're greeted with a 3.2" capacitive touchscreen that manages to clear up our doubts thanks to its luster and good color production. However, there is some evidence of distortion when you tilt it extremely towards one side. Nonetheless, it's still very pretty taking into account the entry-level nature of the device. Other features that deem it part of the entry-level category include a 2-megapixel camera, GPS, Bluetooth, and 2GB microSD card.
Fortunately, we're presented with a modern experience thanks to the
stock Android 2.2 Froyo experience
– yeah, there's no sight of TouchWiz with this one! Just from quickly playing around with it, speed while navigating around the device seems to be more than tolerable – even when activating a live wallpaper. All in all, it's undoubtedly shaping up to become a supreme offering once it's made available some time in
late April
. Again, it's very hard not to like this device since it has some decent specs, inexpensive monthly plan, all the benefits of Android, and most importantly, it sports a rock on $179.99 no contract required cost.