Samsung Galaxy Note Edge vs HTC One (M8): first look
11


The Samsung Galaxy Note Edge amazed us all with its curved screen and the fantastic build it inherited from the Galaxy Note 4. Earlier in the year, the HTC One (M8) made our jaws drop with its gorgeous metallic design and bombastic 5-inch display. We got the two together for a quick showdown here at IFA 2014. Here's our early look at how the two compare to each other.
Design
The Galaxy Note Edge has the screen edge, but the HTC One (M8) has the metal edge.
The Galaxy Note Edge may have the literal edge thanks to its screen's oddball curve to the right, but the HTC One M8 is the one that has the metal edge. Although Samsung did break its plastic ways by endowing its newest phablets with beautifully sculpted aluminum frames, there's nothing quite like holding an all-aluminum slab like the HTC One (M8) - the poster-child of metallic Android phones.
Besides an all-metal body, another thing the Note Edge lacks is one-handed usage comfort. But this isn't a mistake of Samsung's at all. The Note phablets are meant to be used like powerful digital notebooks, one hand holding the device, and another scribbling on its huge screen with the S-Pen. And frankly, the Note 4 and Note Edge are better than ever in this regard, due to Samsung slimming down the screen bezels to LG G3 standards and beyond. The Note Edge is particularly intriguing, as it practically has no right bezel. Samsung has literally turned the 5.6-inch screen's right bezel into a part you actually use, and the day when frames are completely assimilated into the user experience isn't far off. Then again, it does take a while to get used to this unconvential design - but that's how innovation goes. In comparison, the HTC One M8 plays it pretty safe - excessively safe, in fact. Pretty as the phone is, HTC wasted ample screen space with the huge side, upper, and lower bezels surrounding its wonderful 5-inch display. This resulted in a regular flagship-sized phone that's almost as cumbersome to handle as a phablet.
In exact numbers, the Galaxy Note Edge measures 5.96 x 3.24 x 0.33 inches (151.3 x 82.4 x 8.3 mm), 6.14 oz (174 g), while the HTC One (M8) measures 5.76 x 2.78 x 0.37 inches (146.36 x 70.6 x 9.35 mm), 5.64 oz (160 g). The key takeaway is that the Galaxy Note Edge is very appropriately sized for a smartphone in its class, while the HTC One M8, handsome as it is, should go on a diet.
Display
The Note Edge beats the HTC One (M8) with its larger diagonal and two times the resolution, but we'll have to see which one will be remembered with flying colors.

Display size and quality is a delightful topic to discuss for both smartphones. We'll start with the Galaxy Note Edge and its gargantuan 5.6-inch QHD curved AMOLED display, which is the pinnacle of Samsung's display efforts and dials up a mind-boggling pixel density of 525 pixels per inch. We'll have to put it through our display tests to properly assess it, but we are very impressed from what we saw. Meanwhile, the HTC One M8 still has one of the better 5-inch LCD displays to have come out in 2014 with its excellent brightness, great viewing angles, and slightly cold color temperature. While the Note Edge beats the HTC One (M8) with its larger diagonal and two times the resolution, we'll have to see which one will be remembered with flying colors.
Interface
Samsung TouchWiz and HTC Sense 6 are different beasts that share modern thinking.
The Galaxy Note Edge brings a twist to Samsung's familiar TouchWiz interface (first 23 screenshots). Not only has Samsung made it a little more visually consistent and the colors more mature, but it also shifted a number of shortcuts and controls to the display's curved edge. Don't worry, it looks much better in person! Operating the device's camera and menu commands from the edge of the screen is a fun novelty that will attract many curious customers to the device, but it's not a killer feature. Not for now, at least.
On the HTC One (M8) side, we have its beautiful and speedy HTC Sense 6 interface. It may not be as feature-rich and comprehensive as Samsung's sometimes overwhelming TouchWiz, but it's very modern and visually consistent. It also does a great job at letting you get the best out of the HTC One (M8) with minimum effort. The camera interface's circle-y intuitiveness, BlinkFeed's elegant panels, and HTC Zoe's approach to video sharing are really good, well though out features.
Curved screen apart, the Galaxy Note Edge differentiates itself with its S-Pen functionality, fingerprint reader, and heart-rate sensor. The S-Pen software suite is, arguably, the best stylus experience on a smartphone to date. The fingerprint sensor can be quite useful for authorizing online payments, although using it for unlocking the phone is not yet as seamless as on the iPhone 5s. As for the heart rate sensor, we'll let the sporty and healthy-conscious types enjoy it without discussing whether having one on your smartphone is needed, or appropriate at all. Personally, we don't consider it essential, although the S-Health app makes pretty good use of it to keep your vitals in check.
Processor and memory
Both smartphones are equally capable for what they are able to do.
The Samsung Galaxy Note Edge runs on Qualcomm's most powerful silicon on the market, the mighty quad-core 32-Bit Snapdragon 805 clocked to 2.7GHz. It's Adreno 420 GPU is well equipped to handle a QHD display, and the 3GB of RAM ensure effortless multi-tasking for quite some time ahead. The HTC One (M8) makes do with the Snapdragon 801, the hero processor of 2014's first-half flagships. Although its graphics unit, the Adreno 330, is up to 40% slower, this configuration eats 1080p smartphone usage and gaming for breakfast - especially with 3GB of RAM on board. Thus, we'd say that both smartphones are equally capable for what they are able to do. However, it will be a while, if ever, until Samsung manage the HTC Sense 6's incredible, almost iOS-like response speed. This interface looks great and flies like a jet - even lower-specced HTC devices run it without a hitch!
Camera
Samsung has outdone HTC with ease.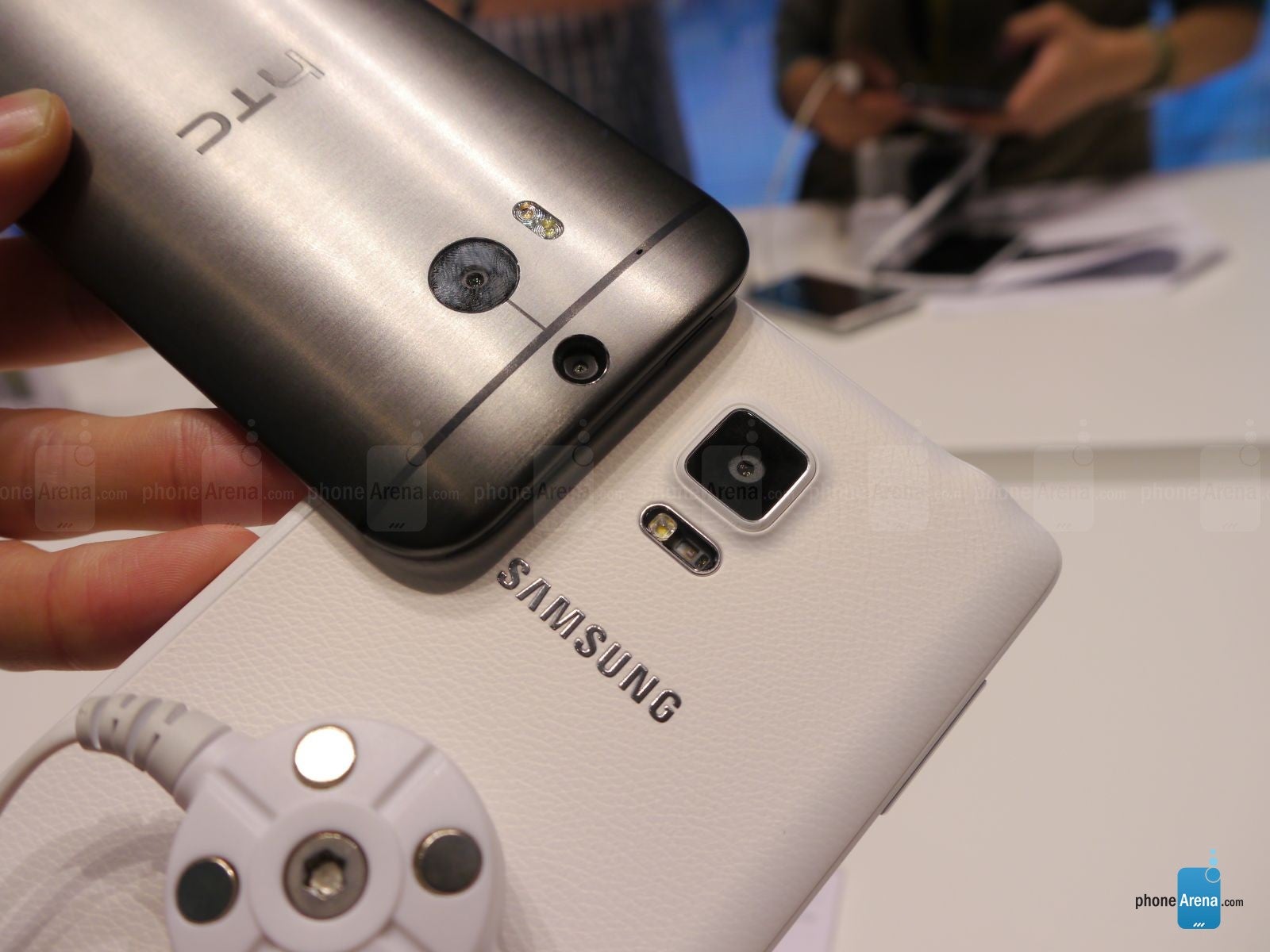 We haven't spend exorbitant amounts of time with the Galaxy Note Edge's 16MP camera like we have with the HTC One (M8)'s UltraPixel duo-camera, but we feel Samsung has outdone HTC with ease in this regard. The UltraPixel camera is regarded as the greatest flaw of the otherwise spectacular HTC flagship, due to producing unimpressive, 4MP-sized photos . Meanwhile, the Duo Camera technology has failed to amaze the community, as its capabilities have been successfully offered by competing devices, utilizing software features and the Snapdragon processors' dedicated image chips. Additionally, the Galaxy Note Edge offers 4K video recording and enough manual controls to impress a DSLR-wielding photography enthusiast. Regarding front cameras, the Note Edge makes do with a 3.7MP camera that doesn't sound as impressive as the HTC One (M8)'s 5MP front cam (which, ironically, takes larger photos than the handset's main camera), but in practical terms, both can land a decent selfie and put it on Instagram right away.
Expectations
The Galaxy Note Edge is a radical phablet, but the HTC One (M8) still remains attractive.
The Galaxy Note Edge is Samsung being radical once again, introducing a (literally) edgy device that only a vendor with a lot of self-confidence can launch and support. Being a Galaxy Note 4 with a curved screen, it seems like an excellent phablet, even if you might struggle to hold it right initially. It's also loaded full of features, a typical "everything but the kitchen sink" Samsung flagship. The HTC One (M8) is still one of the best Android phones to exist, offering a near-flawless build, a wonderful display, and a great software experience. It's not a phablet and it doesn't have a stylus and a bunch of sensors, but you can find ways to be productive with it as well. Just don't try bending its display - HTC probably won't cover that.