Samsung Galaxy Mega 6.3 hits FCC
6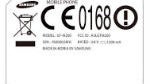 We don't know a lot about the
Samsung Galaxy Mega 6.3
, and most importantly, we don't know when to expect the device to be released, but there is a bit of new information on the device. The Mega 6.3 has been filed with the FCC and there is an interesting note in there about what carrier will see the device.
Early reports said the Mega 6.3 would have both LTE and HSPA+ radios, but the one that has hit the FCC doesn't. This is model I9200, it only has HSPA+ listed, and the bands listed only match AT&T. It would work on T-Mobile in areas that have the 1900MHz spectrum turned on, but the device doesn't have T-Mobile's 1700 or 2100MHz bands.
It's possible this is the AT&T variant, but it seems more likely that this is a variant for AT&T MVNOs which use the carrier's HSPA+ network, but not the LTE network.