Samsung Galaxy Mega 5.8 not coming to the UK
10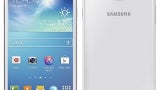 Nooooooooo... oooooooo... oooo. (Breathless) Just yesterday, Samsung announced the new Galaxy Mega smartphones,
one of which
with a screen diagonal of 5.8 inches, and
the other
with the monstrous 6.3 inches. It now appears, though, that the smaller of the two, if 'small' is really a word we can use in this case, will not be made available in the profitable market of the UK.
Shortly after the official announcement of the jumbo smartphones, a number of sources have reported that Samsung simply doesn't have plans to offer the 5.8" Mega in the UK. However, the gargantuan Mega 6.3 will be sold there. Still, if you really wanted the Mega 5.8 and nothing else, there's still chance that you'll be able to find it at some third-party retailer.
Samsung plans to launch the Galaxy Mega 6.3 in mid-May, so that's when we would expect the Mega 5.8 to make an appearance as well, although not through Samsung directly.
Meanwhile, if you want to get a better idea of just how big the Galaxy Megas are, check
this post
out!
via:
UnwiredView