Samsung Galaxy J7 (2016) and Galaxy J5 (2016) officially announced
38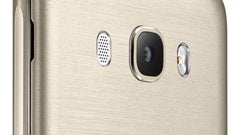 Samsung today announced two new Android smartphones: the
Galaxy J7 (2016)
and Galaxy J5 (2016), both of which now show up over at the company's official Chinese website. Succeeding the Galaxy J7 and
Galaxy J5
from last year, the new J series smartphones offer 5 MP front-facing cameras with LED flashes, so they should appeal to users who take a lot of selfies. On the back, the two handsets have 13 MP cameras (also with LED flashes). By the way, what initially
looked like laser auto focus
on both phones turned out to be just a rear speaker.
As its name suggests, the Galaxy J7 (2016) is the larger, and more powerful smartphone among the two. Sporting a 5.5-inch Super AMOLED display with 1080 x 1920 pixels, the device relies on an octa-core processor clocked at 1.6 GHz (this could be an
Exynos 7870
, though Samsung has yet to confirm that). The J7 (2016) further features LTE connectivity, NFC, 3 GB of RAM, 16 GB of expandable storage space, and a 3300 mAh battery. The device measures 151.7 x 76 x 7.8 mm, and weighs 170 grams.
The Galaxy J5 (2016) only sports a 5.2-inch Super AMOLED display with 720 x 1280 pixels, weighing 159 grams, and measuring 145.8 x 72.3 x 8.1 mm. The handset is powered by a quad-core processor clocked at 1.2 GHz, coming with just 2 GB of RAM, and a 3100 mAh battery. The rest of its features are similar to those of the J7.
Samsung will soon release the Galaxy J7 (2016) and J5 (2016) in China, but there's no word on the phones' prices. We don't know if the handsets will be launched in North America, though we must mention that the lower-end
Galaxy J3 (2016)
is already available to buy in the US - thus, the J7 and J5 could join it at some point. We'll let you know if that happens.