Samsung Galaxy Gear update adds rich notifications for all apps
13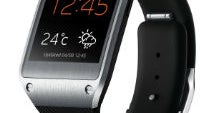 This is a pretty exciting one, because this is the first meaningful update that has come to the Samsung Galaxy Gear. There was one software update before, but it seemed to be all bug fixes and no feature updates. It turns out that the firmware update may have been prepping the device for this update, because now there is a fairly major change that significantly improves the Galaxy Gear's functionality.
Originally, the notification system on the Gear (which should be a main selling point on a smartwatch) was underdeveloped and not very useful. You would get full text messages, but the only other notifications that came through were Gmail and Twitter, but those just told you that something was there with no preview and no way to know if it was important or not. Now, that has all changed.
With the new update to the Galaxy Gear Manager app, you now can get rich notifications from any and all apps that you want. You can customize what apps are allowed to send notifications through to your Gear. And, once the notification gets to your smartwatch, you can see a more fleshed-out notification. Also, app icons now have badges showing you how many unread messages or notifications you have.
This is what we envisioned from the Gear from the start, and it's great to see Samsung continuing to work on improving the watch's functionality. You will need to be on the newest firmware of the Gear for the update to work, but after that all you need is the update to the Gear Manager app.