Samsung Galaxy Gear gets its first custom ROM
17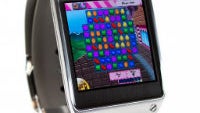 One of the more fun aspects of Android, if you're someone who loves to tinker and mess around with devices, is in the custom ROM sphere. Custom ROMs can let you do tons of things that the manufacturer of your device never intended, or even things that Google never intended when building Android. We knew it was coming, and now the first custom ROM for the Samsung Galaxy Gear has been released.
The ROM is named Null, and it is a fully deodexed and rooted ROM with superuser access and lots of interesting features. It basically gives you a version of stock Android along with Nova Launcher and other goodies. But the two best features of the ROM: 1) Bluetooth tethering, meaning it will work with any device, not just Samsung Galaxy phones; and, 2) access to the Google Play Store.
Additionally, Null offers a native email client, calendar and contact syncing, the browser and gallery app from CyanogenMod 10.2, MTP support, a weather widget, live wallpaper support, and more. There are obviously some things that don't work, bugs, and missing features; but, like most custom ROMs it is a work in progress. No word on what kind of battery life you should expect, but we wouldn't expect too much at first. Still, it would be a fun thing to play around with.