Samsung Focus S and Focus Flash first press shots surface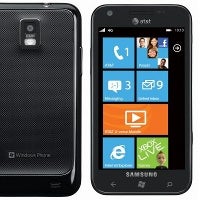 Finally, more than a month after getting officially unveiled on AT&T, the WP Mango-running Samsung Focus S and Samsung Focus Flash have their official press shots, so we know how they look like.
But it's not just about the looks and design - the two phones are among the first to come with a
second-gen Snapdragon processor
, the S2. Unlike the S1, which the first wave of Windows Phones had back in 2010, the S2 puts less strain on the battery as it uses the more precise 45nm technology for manufacturing. The S1, in contrast, comes with 65nm chip. Except for the improved power consumption, you also get higher clock speeds and a noticeably, up to two times, faster graphical processor in the form of Adreno 205. Both new devices come with the Snapdragon S2 clocked at 1.4GHz.
The
Samsung Focus S
is clearly the high-end model, with a bigger, 4.3" Super AMOLED Plus display. On the back, there's an 8-megapixel camera, while up front a 1.3MP shooter will be a welcome addition for video conferencing. The Focus S is also extremely thin - just 0.34" (8.55mm) at its slimmest point, almost as much as the Android-running Galaxy S II.
The
Samsung Focus Flash
is the more affordable and smaller brother of the Focus S with a 3.7" Super AMOLED screen and a 5-megapixel camera. The price is still an unknown, though, but the devices are slated for release this fall, so we should get this final bit of information very soon.