Samsung Behold II will receive its final major update on June 28?
2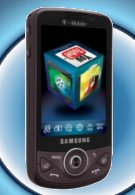 It's a bit hard to imagine how Samsung Behold II owners will take knowing that the handset is on track for a final
major update to Android 1.6
. News about the sudden change of heart by not pursuing Android
2.1
for the handset surely came as a surprise to all owners who were promised at one point that the smartphone would see the light of Eclair. However, it's speculated that June 28 should go down as the date when the Samsung Behold II might see its last major update – bringing it into the world of Android 1.6 and no more. We're not even sure if owners are going to be happy knowing that the fun stops there – as other handsets like the T-Mobile myTouch 3G is getting in with Froyo. Sadly, it looks like hackers may have some work to do if they want to help out these owners who are forced to stop partying at Android 1.6.
Samsung Behold II Specifications
|
Review
source:
Phandroid